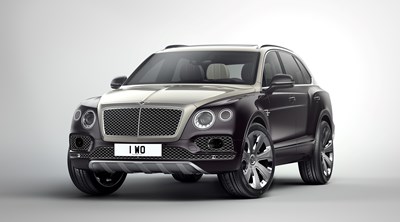 THE BENTAYGA MULLINER:
THE ULTIMATE LUXURY SUV
Unique Mulliner creation is the ultimate luxury statement
Exclusive features include a new Mulliner Bottle Cooler, unique 22" wheel design, new veneer concept and a bespoke Mulliner interior colour split with contrast embroidery
Bespoke craftsmanship positions Bentayga Mulliner as the pinnacle luxury SUV
Flagship Bentayga Mulliner model built in limited numbers
Bentley's in-house personal commissioning division, Mulliner, has applied its exquisite craftsmanship to the multi-award-winning Bentayga, creating a new flagship model and setting new standards in automotive luxury.
New interior and exterior features – including optional Duo Tone paintwork, unique 22" wheels, Mulliner Bottle Cooler and a new veneer concept – complement the Bentayga's sculptural, modern design.
Featuring Bentley's class-leading 6.0-litre, W12 engine, the Bentayga Mulliner combines efficiency and refinement with ultra-luxurious levels of power and torque. With 608 PS (600 bhp) and 900 Nm (663 lb. ft.) delivering a 0-60 mph time of 4.0 seconds (0-100 km/h in 4.1 seconds) and a top speed of 187 mph (301 km/h), the Bentayga is the world's fastest SUV.
Bentayga Mulliner is the new flagship model, and produced in very limited numbers due to the highly complex, handcrafted nature of the luxurious interior features.
Read more
LANGUAGES

Press Information
Add document to collection
Latest News
Image Gallery
Video Gallery