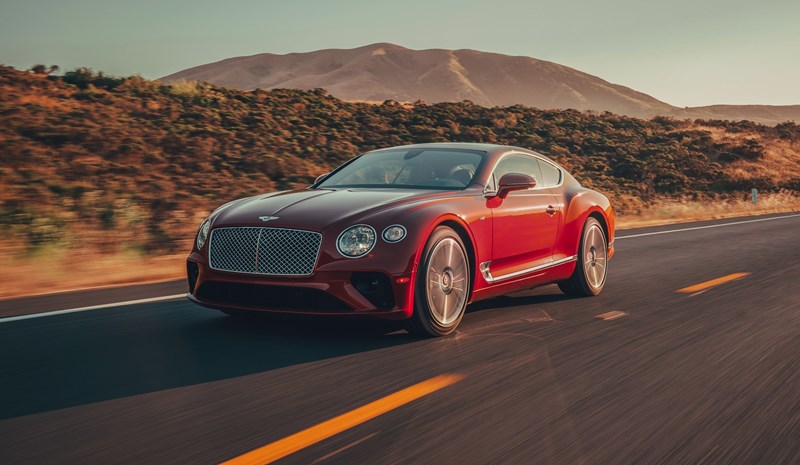 COMBINE IMMENSE POWER WITH IMPRESSIVE FUEL EFFICIENCY WITH THE CONTINENTAL GT V8
A powerful distinct V8 engine offers the Continental GT a lively and engaging drive that complements the unparalleled levels of luxury and cutting-edge technology.
Whilst the a new-generation 4.0-litre, twin-turbocharged engine develops 542 bhp (550 PS) and 568 lb.ft (770 Nm) of torque produces a characterful V8 burble though the stylish quad exhaust pipes, it also offers better efficiency and an increased Grand Touring range of up to 500 miles.
Designed, engineered and handcrafted in Crewe, Great Britain, the Continental GT V8 combines driver-focussed performance with exquisite refinement and cutting-edge technology. Features like 20-inch, 10-spoke painted alloys wheels, subtle V8 badging and a sublime handcrafted interior, offer a distinct sculpted and sharply defined look.
Offering the ultimate combination of immense power with impressive fuel efficiency, the Continental GT V8 offers excellent weight distribution making the dynamic V8 feel even more agile and responsive with a distinctive, higher revving engine personality of its own.
The driving dynamics of the Continental GT V8 offers the driving character expected of a class leading Grand Tourer, along with the opportunity to explore the range of performance the car has to offer via the Bentley Drive Dynamics selector. The different modes available, offer the customer the full breadth of performance, from class-leading refinement and comfort to focussed handling in Sport mode. Add to this the Active All-Wheel Drive System, which enables the use of rear-wheel drive as much as possible during normal driving for optimum efficiency and dynamic performance.