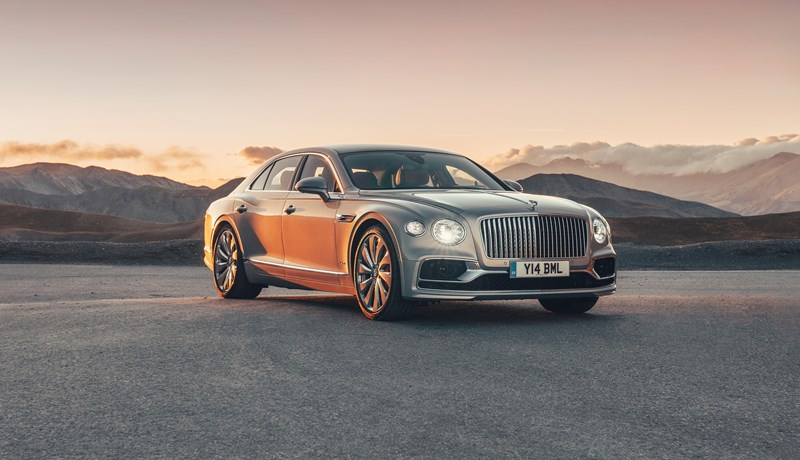 THE FLYING SPUR W12 – SPORTS SEDAN MEETS LUXURY LIMOUSINE
This third generation of Bentley's luxury four-door Grand Tourer owes only its name to its predecessor. The latest model is the ultimate luxury Grand Touring sedan, offering the perfect fusion of performance-orientated agility and exclusive four-door, limousine-style comfort. The bonnet now features a first for the Flying Spur – a Retractable Flying B mascot.
With a bold and exciting road presence that is unmistakably Bentley, plus a luxurious cabin offering unrivalled levels of comfort and refinement, the Flying Spur W12 has been uniquely designed to satisfy both driver and passengers alike in a manner that no other car can do. New from the ground up, the four-door seamlessly integrates the very best in British craftmanship with cutting-edge, innovative features.
The Flying Spur W12 is a showcase for Bentley's contemporary sculptural design language, while bearing the hallmarks of the Crewe-based company's unique DNA. Built on an entirely new platform, its athletic stance benefits from the front axle being moved forward to extend the wheelbase. The elegant, muscular proportions, especially at the rear, are highlighted through the marque's latest generation cut-crystal effect LED matrix headlamps and new wrap-around rear lamps incorporating 'B' motifs. Stylish new 21 and 22-inch wheel designs further enhance the Flying Spur's personality and prowess.
Peerless comfort and refinement in the spacious cabin are enhanced by an extensive list of Single and Dual Veneer wood options. In both front and rear Bentley has introduced fluted leather seats, which feature diamond quilting for the Mulliner Driving Specification. Three-dimensional diamond quilted leather doors inserts are a world first.
At the heart of the Flying Spur is an enhanced version of Bentley's 6.0-litre, twin-turbocharged W12, mated to an advanced dual-clutch eight-speed transmission for faster, smoother gear changes. The new TSI engine delivers 0-60mph in 3.7 seconds (0-100 km/h time of 3.8 seconds) and a top speed of 207mph (333 km/h). Matched with another major advance, three-chamber air springs offer a much greater range of suspension adjustment between limousine-style ride comfort and sporting levels of body control. It allows the Flying Spur a breadth of capability not seen in the luxury segment before.