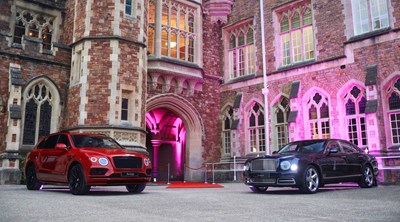 BENTLEY BRISTOL SUPPORTS CLIFTON COLLEGE PERCIVAL DINNER
Percival Dinner at Clifton College – where W.O. Bentley studied - raises money for bursaries funds
School reports of W.O Bentley displayed on the evening of the dinner
Bentley Bristol supports dinner with car display and auction prize
(7 October 2019, Crewe) Bentley Bristol has supported an event to raise bursary funds to support students from less privileged background, who attend Clifton College, where W.O. Bentley studied in his childhood. The bi-annual Percival Dinner, held on Saturday evening, raised £75,145 and was attended by parents and old Cliftonians.
Clifton College is one of the leading Public Boarding Schools in the country, offering co-education for pupils between the ages of two and 18. W.O. Bentley himself attended the prestigious school, where he was reported to 'have found most lessons dull with the exception of Sciences'. W.O also played cricket for the College, once batting for over an hour, only to gain a single run. Nevertheless, Clifton College was where W.O. developed his love for engineering, which ultimately led him to found Bentley Motors in July 1919.
Dr Tim Greene, Headmaster of Clifton College, comments:
'We are proud of the fact that the College has been able to provide a broad and enriching education to those who would not normally be able to access a school such as ours. Our ability to offer such support to future pupils relies heavily on the philanthropy of others, who have, through their personal generosity, changed the lives of young people.
'We are delighted to be part of Bentley's Centenary celebrations and hugely appreciate the company's involvement in the Percival Dinner; offering us all an opportunity to celebrate the contribution of our two former pupils in creating this iconic motor company.'
The evening was supported by Bentley Bristol, who displayed a Bentayga Speed and a Mulsanne during the guests' arrival, and offered a tour of the Bentley Motors factory as part of a charity auction, which contributed towards the overall fundraising on the night.
Bentley Bristol Brand Manager, David Harries, comments:
'It feels very fitting that 100 years after W.O and his brother created the first Bentley that we are able to celebrate the link between W.O. Bentley and our wonderful city.
'We are delighted to be supporting the Percival Dinner to help raise bursary funds in order for the college to continue inspiring the next generation of engineers and entrepreneurs'.
The Dinner is named after Dr John Percival, the founding Headmaster who was a Victorian visionary and a strong believer in science and the education of women. The school has been home to many British figures, including General Douglas Haig, John Cleese and W.O. Bentley. All proceeds from the evening will go towards bursary support for deserving pupils.
- ENDS -
Notes to editors
Bentley Motors is the most sought after luxury car brand in the world. The company's headquarters in Crewe is home to all of its operations including design, R&D, engineering and production of the company's four model lines, Continental, Flying Spur, Bentayga and Mulsanne. The combination of fine craftsmanship, using skills that have been handed down through generations, alongside engineering expertise and cutting-edge technology is unique to UK luxury car brands such as Bentley. It is also an example of high-value British manufacturing at its best. Bentley employs around 4,000 people at Crewe.
Read more
LANGUAGES

Press Contacts
Mike Sayer
Head of Product Communications
mike.sayer@bentley.co.uk
+44 (0) 1270 535133
Wayne Bruce
Director of Communications
wayne.bruce@bentley.co.uk
+44 (0) 1270 535189