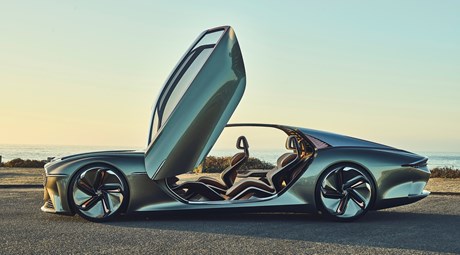 BENTLEY EXP 100 GT – WORKING IN PARTNERSHIP FOR A FUTURE OF SUSTAINABLE LUXURY MOBILITY
Bentley's vision of the future sets the benchmark for sustainability
Luxurious cabin includes finest intelligently curated materials
All-electric concept car an environmental showcase
Bentley partners with world's leading experts in sustainable materials
Sustainable future includes 5,000-year-old Copper Infused Riverwood
100% organic leather-like textile a bi-product of wine-making
British Farmed Wool carpets and embroidered cotton interior surfaces
Even Compass exterior paint made from recycled rice husks
Fully-autonomous EXP 100 GT a celebration of Bentley's centenary
(Crewe, 30 October, 2019) Bentley has become a world leader in the push towards a future of sustainable luxury mobility with the new EXP 100 GT – its all-electric concept car created to celebrate the company's centenary year. In pursuing this vision, Bentley has brought together intelligently curated materials from some of the world's leading experts in sustainable production.
The fully autonomous Grand Tourer with zero emissions and Artificial Intelligence sets a new benchmark for sustainable travel. Designed to enhance the occupants' luxury Grand Touring experience, it is borne from pure Bentley DNA. Beautifully styled, it reasserts the car as a place for creating, experiencing and capturing extraordinary human experiences and emotions.
Bentley has entered into some unique collaborations to bring the EXP 100 GT to reality. The future of sustainable luxury includes 5,000-year-old Copper Infused Riverwood, a 100% organic leather-like textile which is a bi-product from wine-making, as well as British Farmed Wool carpets. Even the Compass exterior paint is made from recycled rice husks.
The Bentley EXP 100 GT – Partnerships for a sustainable future
Bentley has created a carefully curated selection of exquisite materials for the EXP 100 GT concept car. The collaborations, many of which also help protect the tradition of British craftsmanship, put sustainable innovation to the forefront.
Among them is a unique partnership with Gainsborough, a company that has been producing some of the world's finest interior furnishing fabrics since 1903, designed, dyed, warped and woven with care and integrity. Based in Sudbury, Suffolk – a centre of silk weaving since the 19th century – the company has a royal warrant of appointment to Her Majesty The Queen.
Gainsborough cotton damask textile is sustainable, renewable and biodegradable, making it an excellent choice as an environmentally friendly fibre in the EXP 100 GT. This unique and beautiful damask has been jointly created by Bentley and Gainsborough, using a sustainable dying process that strives to achieve zero discharge of chemicals into the environment.
Bentley teamed up with London's premier embroidery house to create a crafted art installation on the textile. Hand & Lock has more than 250 years of experience, providing their services to the Royal Family, top European design houses, the Royal Armed Forces and Savile Row tailors. The company is committed to sharing embroidery know how and inspiring the next generation of embroiderers.
Vegea is the future of luxury eco-materials and uses a bi-product of the wine-making process to create a fully vegetal raw material consisting of grape skins, seeds and stalks that remain after crushing grapes. An exclusive collaboration with Vegea Company of Italy sees Bentley making a clear and bold statement about its commitment to delivering beautiful materials that are sustainable and environmentally friendly too.
Using a traditional Wilton loom, Grosvenor Wilton's luxury floorcoverings in the EXP 100 GT are woven with precision and skill in the finest sustainable wool from rare breed sheep. Grosvenor Wilton is one of England's oldest carpet manufacturers, founded in Kidderminster in 1790, it has a legacy of quality and innovation. The yarn selected for Bentley is all-British Farmed Wool, spun in Britain, dyed in Yorkshire and woven in Worcestershire.
Cumbria Crystal is the last producer of completely hand-blown and hand-cut, lead, luxury English crystal. Using only traditional methods, a team of just 22 highly skilled artisans use techniques that have barely changed since Roman times. The company is committed to operating as sustainably and ethically as possible, working only with British and European partners for all supplies and packaging. It is the crystal of choice for British Embassies, many royal families and now the Bentley EXP 100 GT.
Even the exterior paint of the EXP 100 GT is produced from a process that uses rice hush ask – a bi-product from the rice industry. The Coldstream pigment featured on the Grand Tourer is synthetically manufactured and reduces rice husk landfill waste, due to the bi-product's lack of biodegradability. The resulting paintwork shows a beautiful spectrum of autumn colours.
Bentley's love of authentic materials – a long-established tradition in the company's luxurious cars – continues via a unique partnership with the charity, the Fenland Black Oak Project.
Around 5,000 years ago, an ancient high forest once stood inside the Fenland Basin in England's East Anglia region. Over time and due to a rise in sea level, these spectacular oak trees fell into the silt of the flooded forest where they have been preserved ever since in the peat.
This black 'treasure' lay undiscovered until 2012 when experts found a 13-metre long giant log from that forest. Milled and dried, the wood has an aesthetic naturally occurring open grain, knots and cracks that make it perfect material to infuse with metals such as recycled copper – adding stability to an otherwise 'flawed' piece of wood.
Inspired by the Japanese art of Kintsugi, metal infused bog oak embraces and celebrates the beauty of the natural features and imperfections, repurposing an otherwise discarded material for use in the Bentley EXP 100 GT interior.
- ENDS –
Notes to editors
Bentley Motors is the most sought after luxury car brand in the world. The company's headquarters in Crewe is home to all of its operations including design, R&D, engineering and production of the company's four model lines, Continental, Flying Spur, Bentayga and Mulsanne. The combination of fine craftsmanship, using skills that have been handed down through generations, alongside engineering expertise and cutting-edge technology is unique to UK luxury car brands such as Bentley. It is also an example of high-value British manufacturing at its best. Bentley employs around 4,000 people at Crewe.