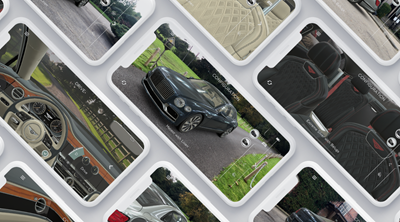 BENTLEY LAUNCHES AUGMENTED REALITY APP TO SHOWCASE THE NEW FLYING SPUR
Augmented Reality app allows users to experience the Flying Spur anywhere the user chooses - from a Bentley retailer to their driveway
AR technology used to enhance the customer experience
Available from the Apple App Store, and Google Play Store
(Crewe, 31 October, 2019) Following the launch of the all-new Flying Spur, Bentley has launched a new Augmented Reality app to showcase the world's finest grand touring sedan.
Customers and enthusiasts can now experience the Flying Spur ahead of first deliveries, which will take place in Q1 2020. The app will allow Apple and Android users to explore the exterior and interior of the car in two different specifications.
The specifications have been made to represent two key characteristics of the Flying Spur – luxury and performance. The 'Luxury' specification is a Meteor exterior, with an interior finished in Brunel and Linen hides. In contrast, the 'Performance' specification has an Extreme Silver exterior with Beluga leather accented by Hotspur stitching. Both configurations showcase the Mulliner Driving Specification, Rear Seat Entertainment, Bentley Rotating Display and the new Flying B mascot. The 'Performance' specification also features the newly launched Blackline Specification.
The application uses the latest Augmented Reality technologies and is amongst the most advanced in the automotive industry. As well as choosing multiple specifications, users can change the size of the car, viewing it on a table top or scaling up to a full-size simulation. Users are also able to take the Flying Spur on an augmented reality test drive.
The Flying Spur AR app is available via the links below:
- ENDS -
Notes to editors
Bentley Motors is the most sought after luxury car brand in the world. The company's headquarters in Crewe is home to all of its operations including design, R&D, engineering and production of the company's four model lines, Continental, Flying Spur, Bentayga and Mulsanne. The combination of fine craftsmanship, using skills that have been handed down through generations, alongside engineering expertise and cutting-edge technology is unique to UK luxury car brands such as Bentley. It is also an example of high-value British manufacturing at its best. Bentley employs around 4,000 people at Crewe.
Read more
LANGUAGES

Press Contacts
Mike Sayer
Head of Product Communications
mike.sayer@bentley.co.uk
+44 (0) 1270 535133
Wayne Bruce
Director of Communications
wayne.bruce@bentley.co.uk
+44 (0) 1270 535189