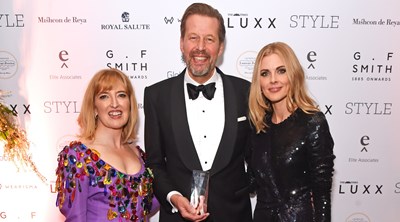 BENTLEY WINS NEW 'FUTURE LEGACY' CATEGORY AT WALPOLE BRITISH LUXURY AWARDS
Bentley Centenary honoured for the EXP GT 100, a vision of the future of luxury mobility
The brand noted for its unrivalled combination of excitement, innovation and sustainability
Fine craftsmanship and exquisite materials defined the first 100 years of Bentley and continue to do so to this day
The best of British luxury businesses spanning multiple sectors in products and services competed across diverse categories in the annual awards
More than 350 top luxury industry leaders, producers and influencers gathered to applaud Britain's longstanding luxury companies and celebrate emerging talent at The Dorchester hotel in London's Mayfair
(Crewe, 19th November, 2019) British actress and television presenter Donna Air yesterday presented the 'Future Legacy' award to Bentley at the annual Walpole Awards in London. The award honours an iconic British luxury brand chosen to use the power of its heritage to build a visionary and relevant future.
Receiving the award, which puts innovation, sustainability and purpose at the heart of Bentley's objectives for the next 30 years, Stefan Sielaff, Bentley Design Director, commented: "The EXP100 GT is our ideological manifesto, which is catapulting not only our design language but also our brand identity into the future.
"It was a privilege and a pleasure to collaborate on this project with a range of other great British companies similarly dedicated to authenticity and to their distinctive areas of craftsmanship – such as embroidery, glass and fabric. The question for the future of luxury will derive from a wide range of innovative ideas, including sustainability, local sourcing, organic materials and social responsibility.
"We all have to inspire our customers and at Bentley we aim to fulfil the promise we made with this unique piece of Centenary design translated into our production cars within the next years."
Award-nominated English actor, singer and songwriter Laurence Fox presented awards across 10 categories from a shortlist of brands which included the V&A Museum & Christian Dior: Designer of Dreams; De Beers; Burberry; Ralph & Russo and Smythson among a celebrated collection of British luxury brands.
The annual Walpole British Luxury Awards is dedicated to celebrating the very best high-end products and services from a diverse range of British businesses: from fashion, fragrance and fine jewellery to hotels, automobiles and accessories.
The winners of the prestigious awards are selected by a panel of industry experts, headed up by Walpole's Chairman, Michael Ward, Managing Director of Harrods and Walpole's CEO, Helen Brocklebank.
"It's a privilege to give the inaugural Future Legacy award to Bentley," commented Walpole CEO Helen Brocklebank.
"As one of the UK's most extraordinary car marques, this year saw the brand celebrate its centenary by unveiling its vision for the future of luxury driving, the EXP 100 GT – a technological tour de force of design and driver excitement.
"A passion for innovation, used sustainable materials and fine craftsmanship has defined Bentley over its first 100 years and continues to do so today."
- ENDS –
Notes to editors
About Bentley Motors:
Bentley Motors is the most sought after luxury car brand in the world. The company's headquarters in Crewe is home to all of its operations including design, R&D, engineering and production of the company's four model lines, Bentayga, Continental, Flying Spur and Mulsanne. The combination of fine craftsmanship, using skills that have been handed down through generations, alongside engineering expertise and cutting-edge technology is unique to UK luxury car brands such as Bentley. It is also an example of high-value British manufacturing at its best. Bentley employs around 4,000 people at Crewe.
About Walpole:
Walpole is the official sector body for UK luxury. Founded in 1992 as a not-for-profit organisation, it counts more than 250 British brands in its membership and is recognised in both Westminster and Brussels. As the voice of British luxury, Walpole's purpose is to promote, protect and develop a sector worth £48 billion to the UK economy and the jewel in the crown of UK business.
Walpole actively seeks out UK and international business opportunities, promoting growth in the industry through a programme of initiatives, including the annual trade mission and press showcase to the U.S. The UK China Visitor Alliance (UKCVA) has had great success lobbying government to make the visa application system simpler, helping bring more Chinese visitors to the UK. As founders of the European Cultural and Creative Industries Alliance (ECCIA), Walpole cements and champions relationships with Europe's luxury and creative sectors, lobbying the EU on key policy issues like selective distribution and IP protection, and supporting pan-European business and cultural connections post-Brexit. Dedicated to creating a pipeline of growth for Britain's luxury brands, Walpole also runs the annual mentoring programmes Brands of Tomorrow and the Programme in Luxury Management at London Business School.
Read more
LANGUAGES

Press Contacts
Julia Marozzi
Head of Lifestyle Communications
julia.marozzi@bentley.co.uk
+44 (0) 203 705 2047
Wayne Bruce
Director of Communications
wayne.bruce@bentley.co.uk
+44 (0) 1270 535189