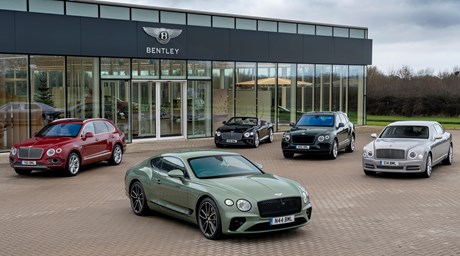 NEW MODELS HELP TO DRIVE BENTLEY SALES INCREASE IN 2019
Bentley Motors delivers 11,006 extraordinary cars in 2019
Sales up five per cent – seventh consecutive year above 10,000 sales
Particularly strong performance in UK, Europe and the Americas
New Continental GT Convertible and V8 plus Bentayga Speed and Hybrid models key to sales increase
Greater availability of popular Continental GT W12 and Bentayga V8 a significant contributor to British marque's growth
Continental GT number one selling model followed by Bentayga which itself achieved a record sales year
Deliveries of the all-new Flying Spur commence early 2020
(Crewe, 7 January 2020) Bentley Motors saw its sales rise by five per cent in 2019 as a raft of exciting new models helped entice a growing number of customers around the world. With total sales of 11,006 cars, this was the seventh consecutive year that the luxury British marque has sold over 10,000 units
The Americas was Bentley's number one region during the company's centenary year, with Europe and the UK also posting strong increases.
Key to the company's ongoing success was the introduction of several exciting new models, combined with greater global availability of other popular models, in particular the Continental GT W12 and Bentayga V8. Demand for the Continental GT was increased by the introduction of a high performance V8 engine for both Coupe and Convertible versions. The pioneering, go-anywhere Bentayga was also in strong demand, setting a sales record, with new Speed, Design Series and Hybrid models adding to the luxury SUV's appeal. The Hybrid being the world's first true luxury electrified vehicle and Bentley's first, too. Three limited edition models were also produced by Bentley's bespoke division, Mulliner - all quickly sold out.
The world's finest Grand Tourer, the Bentley Continental GT was the marque's best-selling model in 2019, with sales up by 54 per cent compared to the previous year. Sales of the Bentayga increased, too, by 18 per cent.
Adrian Hallmark, Chairman and CEO of Bentley Motors, said: "2019 was an extraordinary year for Bentley for many reasons.
"Our sales performance reached over 11,000 customer deliveries for the fourth time in our 100 year history, plus it represents the seventh consecutive year above 10,000 retail sales. This result was driven by strong demand in all regions, the successful launch of the Continental GT Convertible, plus the launch of five major derivatives and limited edition models during the year.
"It's remarkable that this achievement was largely without any sales of the Flying Spur which historically has contributed 20 per cent of our annual sales.
"This result secures Bentley's return to profitability, demonstrates the successful implementation of our turnaround, and sends a clear signal for the potential of Bentley for 2020 and into our next century."
Bentley ended the year with 238 retailers in 68 markets, a record high.
The Americas region delivered 2,913 cars, an increase of 30 per cent on the corresponding figure for 2018. Placing the region as Bentley's number one market, this strong performance was boosted by record sales of the new Continental GT luxury Grand Tourer.
Europe closed the year with the delivery of 2,670 cars, against a figure of 2,536 in 2018, an increase of five per cent that also accounted for 24 per cent of global deliveries.
Bentley's home market in the UK continued its consistent strong performance, recording sales of 1,492 cars. This represented an increase of 10 per cent over the previous year.
Bentley delivered 852 cars to the Middle East in 2019, against a total of 974 the previous year. The market in China suffered due to a lack of availability of cars, with the new Continental GT only arriving in December, however, reached 1,940 cars sold.
Japan and Korea delivered a total of 651 cars, against a total of 654 in 2018.
Finally, the Asia Pacific region delivered 488 cars, slightly down on the 520 sold in 2018.
As Bentley enters its second century, and following the recent launch of the new Flying Spur, 2020 is set to be another exciting year for the brand and customers alike. Deliveries of the new Flying Spur, the ultimate luxury four-door Grand Touring sedan, are set to commence in early part of the year.
| | | |
| --- | --- | --- |
| Market | 2019 | 2018 |
| Americas | 2,913 | 2,235 |
| Europe | 2,670 | 2,536 |
| China | 1,940 | 2,219 |
| United Kingdom | 1,492 | 1,356 |
| Middle East | 852 | 974 |
| Japan and Korea | 651 | 654 |
| Asia Pacific | 488 | 520 |
| Total | 11,006 | 10,494 |
- ENDS –
Notes to editors
Bentley Motors is the most sought after luxury car brand in the world. The company's headquarters in Crewe is home to all of its operations including design, R&D, engineering and production of the company's four model lines, Continental, Flying Spur, Bentayga and Mulsanne. The combination of fine craftsmanship, using skills that have been handed down through generations, alongside engineering expertise and cutting-edge technology is unique to UK luxury car brands such as Bentley. It is also an example of high-value British manufacturing at its best. Bentley employs around 4,000 people at Crewe.