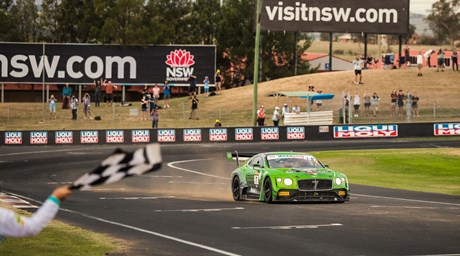 CONTINENTAL GT SHOWS BREADTH OF ABILITY; WINS BATHURST 12 HOUR, WOWS CROWDS AT GP ICE RACE
Continental GT derivatives perform on both sides of the world
In Australia, Bentley wins Bathurst 12 Hour with Continental GT3
In Austria, W12-powered Continental GT ice racer makes debut at famous GP Ice Race
(Crewe, 3 February 2020) – The Continental GT has demonstrated its extraordinary breadth of ability this weekend, first by taking overall victory in Continental GT3 form at the Bathurst 12 Hour, and then with a stunning debut of the Ice Race Continental GT at the 2020 GP Ice Race in Zell am See.
The #7 Continental GT3 of Maxime Soulet (BEL), Jordan Pepper (ZAR) and Jules Gounon (FRA) dominated the opening round of the 2020 Intercontinental GT Challenge at Bathurst, sweeping to victory after starting P11.
The car moved quickly through the order into podium contention. World-class stints from Soulet, Pepper and Gounon, and strong strategy and pit stops from the team, moved the team into P1 for a total time of seven hours – with the car running flawlessly. A superb reactionary pit-stop just over an hour from the end to deal with a puncture was the final act from the team to set the car up for victory. Rain loomed while ambient temperatures exceeded 40°C, but after the half-day sprint the #7 Continental GT3 crossed the line as the winner of the Bathurst 12 Hour. As they took the chequered flag, the crew also set a new race distance record of 314 laps - before the heavens opened and the team rejoiced in the rain.
Bentley's Director of Motorsport, Paul Williams, comments:
"What a weekend. Our crew has been pushed to its limits but shown that whatever racing throws at you, you must never give up. It's been a long-deserved Intercontinental GT Challenge win for our Continental GT3 – we've been in contention many times, especially here at Bathurst, so it feels good to finally make it stick. It's a great way to start our season and we hope it is a sign of things to come for our customer teams around the world as we embark on our largest motorsport programme to date."
While the Continental GT3 scored a victory in the debut race of its 2020 campaign, on the other side of the world Bentley's weekend of racing continued in Zell am See, Austria, where a specially prepared Continental GT competed in the famous GP Ice Race.
Driven by Junior World Rally Championship driver Catie Munnings (GBR), and running in a livery that paid homage to its record-breaking compatriot from the Pikes Peak International Hill Climb in 2019, the Ice Race Continental GT marked Bentley's first appearance at the GP Ice Race. Completing several timed runs and demonstration laps, Munnings deployed the 635 PS (626 bhp) and 900 Nm (664 lb.ft) of torque from the car's W12 twin-turbocharged TSI engine through Pirelli studded tyres.
Following her timed runs, Munnings then teamed up with professional Bomber skier Sven Rauber for a demonstration of skijoring, where a skier it towed at speed behind a car in a tradition dating back to the 1928 Olympic Winter in St. Moritz, when skiers were drawn by riderless horses.
The car had been kept as close to production standard as possible, with minimal changes for safety compliance including a rear roll cage, on-board fire suppression system, racing seats and harnesses. The car's air suspension was raised for greater ground clearance, and arch extensions accommodated a 15 mm increase in track width. A brace of Lazer high performance lights, a custom exhaust system from Akrapovic and a bespoke roof rack holding a pair of Bomber x Bentley skis completed the spec of the Ice Race Continental GT .
The next round of the Intercontinental GT Challenge is the 24 Hours of Spa in July. Bentley and M-Sport's attention will now return to the customer racing teams and the new Bentley Motorsport Academy, along with expanded testing and development programmes. Meanwhile the Ice Race Continental GT will return to the UK, ahead of an upcoming road trip to the Geneva Motorshow in March.
- ENDS -
Notes to editors
Bentley Motors is the most sought-after luxury car brand in the world. The company's headquarters in Crewe is home to all of its operations including design, R&D, engineering and production of the company's four model lines, Continental, Flying Spur, Bentayga and Mulsanne. The combination of fine craftsmanship, using skills that have been handed down through generations, alongside engineering expertise and cutting-edge technology is unique to UK luxury car brands such as Bentley. It is also an example of high-value British manufacturing at its best. Bentley employs around 4,000 people at Crewe.