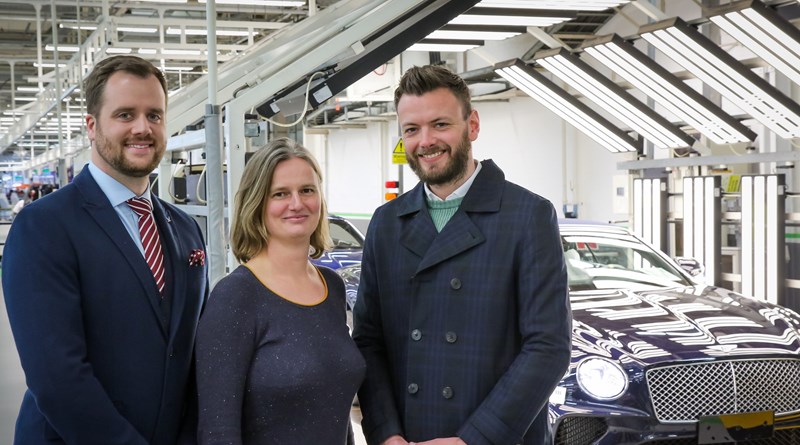 BENTLEY COMMUNICATIONS TEAM NEWS
Mike Sayer becomes Head of Product Communications
Jenny Elliot moves to new role as Press Officer – UK
Greg Drury joins team as Digital & Social Media Manager
(Crewe, 11 March 2020) The Bentley Communications team has recently welcomed a new member to its ranks as well as promoting two long serving members of the team.
Mike Sayer, now Head of Product Communications, joined Bentley's press office in 2012 as Product & Motorsport Communications Manager before moving into the position of Communications Manager – UK in 2018.He reports to Director of Communications, Wayne Bruce.Prior to joining the Communications team, Mike worked in various technical roles within the Bentley Engineering department having completed the Bentley Graduate programme. Mike is the (unofficial) holder of a UK land speed record, and is an avid collector of single malt whisky, with a 30-strong assortment at home – though the latter thankfully wasn't involved in the former.
Jenny Elliot moves to the role of Press Officer – UK, now Bentley's first point of contact for UK media. Jenny joined Bentley in 2003, carrying out a number of different roles within the core Communications team. Most recently, Jenny has been in charge of coordinating media visits to the Bentley factory in Crewe and in all has been at Bentley for over 18 years.Her husband also works for the company and has had a number of classic cars.Most recently, a Volkswagen Corrado VR6 which sadly Jenny made him sell.It was a Storm, too.But she asks this not be held against her.
Greg Drury joins the Communications team as Digital & Social Media Manager, moving within Bentley from the Manufacturing Engineering team where he fulfilled a managerial position for six years. Greg worked as an engineer at Airbus in Europe and the UK before joining Bentley Motors. Greg likes his motorcycles and recently restored a 1981 CB650. It lives in his dining room. Yet surprisingly his girlfriend said yes when Greg proposed a few months ago.
Contact details for Mike, Jenny and Greg are as follows:
Mike Sayer, Head of Product Communications
07507 846782
mike.sayer@bentley.co.uk
Jenny Elliot, Press Officer – UK
07930 996475
jennifer.elliot@bentley.co.uk
Greg Drury, Digital & Social Media Manager
07584 586928
greg.drury@bentley.co.uk
- ENDS -
Notes to editors
Bentley Motors is the most sought-after luxury car brand in the world. The company's headquarters in Crewe is home to all of its operations including design, R&D, engineering and production of the company's four model lines, Continental, Flying Spur, Bentayga and Mulsanne. The combination of fine craftsmanship, using skills that have been handed down through generations, alongside engineering expertise and cutting-edge technology is unique to UK luxury car brands such as Bentley. It is also an example of high-value British manufacturing at its best. Bentley employs around 4,000 people at Crewe.
Read more
LANGUAGES

Press Contacts
Wayne Bruce
Director of Communications
wayne.bruce@bentley.co.uk
+44 (0) 1270 535189