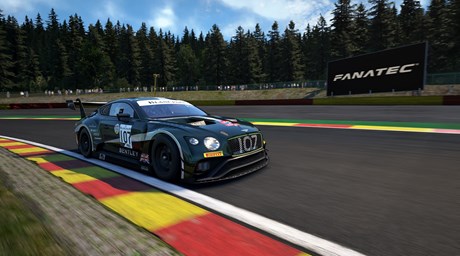 BENTLEY RACING DRIVERS ENTER SRO'S ESPORT GT SERIES CHARITY CHALLENGE WITH FOUR CONTINENTAL GT3s
Four Bentley racing drivers entered into SRO's charity sim race
Drivers represent four of Bentley Motorsport's customer teams
Bentley Motorsport provides set-up assistance to all drivers
40 real world racers and 10 sim racers will race to raise money for COVID-19 charities
Race to take place at Monza in the Assetto Corsa Competizione game
(Crewe, 27 March 2020) – Bentley Motorsport might not be racing on track, due to the postponement of public events around the world, but the Crewe-based team will still be in action this Sunday as four Continental GT3s are set to race in the SRO E-Sports GT Series Charity Challenge.
With racing drivers, engineers and fans around the world staying at home to slow the spread of COVID-19, many are have turned to e-racing to get their motorsport fix. This Sunday, SRO – the organisers of the multiple real world racing series that Bentley's customer teams contest – will host a race at Monza in the Assetto Corsa Competizione game.
The race will see 50 GT3 cars battle it out, comprising 40 real racers and 10 sim racers, with four Continental GT3s fighting for race honours. Bentley works driver Al Buncombe (GBR), K-PAX Racing's Andy Soucek (ESP), CMR's Arjun Maini (IND) and JRM's Martin Plowman (GBR) will each race a Bentley in the one-hour sim race.
In the build-up to the race, Bentley's drivers have worked closely with Bentley Motorsport's technical team to develop the car and the team is feeling confident ahead of its debut esport event.
Bentley's Director of Motorsport, Paul Williams, comments:
"While it is of course disappointing to have to postpone rounds of the 2020 racing season, the health and safety of everyone is paramount. So, we have taken the skill set of our motorsport department and put them into action in the virtual world.
"Our drivers and technicians have been busy all week working on the set-up of the virtual Continental GT3 and it's lap time around Monza is now representative of the real world. It's a one-hour race so we think strategy could play a big role – we may not have the fastest outright lap time but we're happy enough with our race pace."
"We applaud the team at SRO, for not only for their handling of the COVID-19 situation, but for quickly putting on a charity event with such an impressive entry list. We look forward to tuning in and enjoying the race from the safety of our homes on Sunday."
The action takes place this Sunday 29 March with the livestream at youtube.com/GTWorld starting at 13.30 CET. The show will begin with a re-cap of the sim racing qualifying sessions followed by two semi-finals, which whittled 90 of the world's best sim racers down to 20 finalists. At 16.40, a 15-minute qualifying session will take place with the race set to go green at 17.00.
Fans can follow the action from all of Bentley's racing teams on social media by searching @BentleyRacing on Twitter and @BentleyRacingOfficial on Instagram.
Driver quotes:
Al Buncombe, Bentley works racing driver: "It's fantastic that SRO has put on a charity event like this. We are a very tight-knit community and, as well as giving us our motorsport fix, it's allowing us all to come together and give our very loyal fans some racing to enjoy. We've worked really hard on the set-up this week - the level of preparation and effort has made it feel like a real world race week! Let's hope we can reap the rewards on Sunday."
- ENDS -
Notes to editors:
Bentley Motors is the most sought after luxury car brand in the world. The company's headquarters in Crewe is home to all of its operations including design, R&D, engineering and production of the company's four model lines, Continental, Flying Spur, Bentayga and Mulsanne. The combination of fine craftsmanship, using skills that have been handed down through generations, alongside engineering expertise and cutting-edge technology is unique to UK luxury car brands such as Bentley. It is also an example of high-value British manufacturing at its best. Bentley employs around 4,000 people at Crewe.
Organised by SRO E-Sport GT Series, Kunos Simulazioni and Ak Informatica, Sunday's event will raise money for the COVID-19 Solidarity Response Fund, which supports the World Health Organisation and its partners in their response to the pandemic. All entrants have made a minimum donation to the cause.
The 2018 Bentley Continental GT3 has four liveries available in the Assetto Corsa Competizione game, including the two centenary celebration designs launched at last year's 24 Hours of Spa.