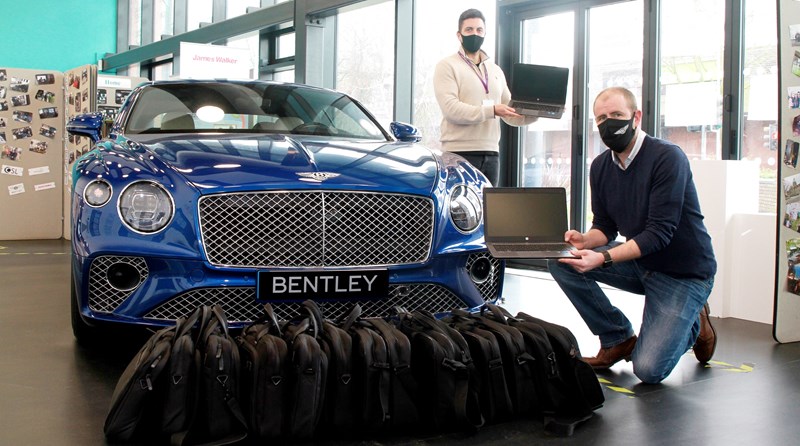 BENTLEY'S TECH BOOST FOR LOCAL FAMILIES
Bentley provides over 100 items of surplus IT gear to help connect local students to their online learning
50 computers donated to UTC Crewe and local primary schools
Over 60 Bentley families will also benefit from long-term tech loans including laptops and hotspots
Part of a package of measures to support Bentley families, Cheshire East communities and everyone's wellbeing – Come Back Stronger in 2021
(Crewe, 1 February 2021)
With confirmation that home–learning is set to continue into March, Bentley Motors has donated over 50 laptops and PCs to students from local schools as part of its ongoing efforts to support the local community.
Bentley identified the surplus items following a review of its existing IT equipment and they have been wiped and restored so that they can be used to access home-learning platforms.
Of the items, 16 laptops have now been donated to Crewe UTC, which Bentley has an ongoing relationship with as a founding partner. In addition, the company is also providing over 60 of its colleagues with long-term laptops loans and Wi-Fi hotspots, to help those whose families are struggling to get online and connect. A further 34 laptops and PCs are being donated to local Crewe-based organisation Project 100, which is placing surplus IT equipment with local schools to support children in the Crewe area who cannot access online.
Dr Astrid Fontaine, Bentley's Member of the Board for People, Digitalisation and IT, explains:
"It is absolutely vital that in these challenging times we safeguard education and avoid a digital divide within our society. With local schools and families once again adapting to online learning – and with many schools now having far more extensive digital learning platforms in place – having sufficient digital devices in place for children to use at home is more important now than ever.
"We know that this can be a struggle for many families, so we've identified a range of surplus computer equipment and accelerated our plans to decommission it. We've also had discussions with local schools and our colleagues, to identify young people who can use these additional IT resources for home-schooling and are delighted to make it available to them.
"As we've discovered through our own remote working experiences, we can achieve a huge amount remotely, but there is no substitute for human connection so it's important that we get everyone back into the classroom as soon as it is safe to do so. Until that is possible though, we're pleased to be playing our part to help out locally."
- ENDS -
Notes to editors
Bentley Motors is the most sought after luxury car brand in the world. The company's headquarters in Crewe is home to all of its operations including design, R&D, engineering and production of the company's three model lines, Bentayga, Continental and Flying Spur. The combination of fine craftsmanship, using skills that have been handed down through generations, alongside engineering expertise and cutting-edge technology is unique to UK luxury car brands such as Bentley. It is also an example of high-value British manufacturing at its best. Bentley employs around 4,000 people at Crewe.
Read more
LANGUAGES