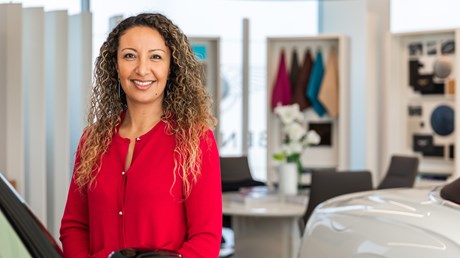 BENTLEY APPOINTS NEW HEAD OF MARKETING AND COMMUNICATIONS FOR EUROPE
Amel Boubaaya named new Head of Marketing and Communications for Bentley's European region
Replaces Caren Jochner who moved to Head of Global Brand Experience position in April
(Crewe, 19 July 2021) Bentley Motors has announced the appointment of Amel Boubaaya as Head of Marketing and Communications for Europe, starting today. Amel replaces Caren Jochner who in April became Bentley's Head of Global Brand Experience.

Amel will report jointly to Balazs Rooz, Regional Director, Europe and Wayne Bruce, Director of Communications. Commenting on the appointment, Wayne said:

"I am delighted to welcome Amel to Bentley and to be working together so closely once again. Amel brings a deep-rooted understanding of communications and customers in the luxury sector and a true passion for automotive, honed over many years of experience working in various markets around the world. I look forward to working together to develop and deliver our activities throughout the key European region as we look to transform our global business to become the leader in sustainable luxury mobility."

Amel joins Bentley having spent 15 years in automotive communications, most recently as Head of PR for Europe, Middle East and Africa for McLaren Automotive. Amel's 10 year spell at McLaren included roles as Head of Lifestyle and European Communications and her starting position, European Communications and PR Manager.

Amel comments:

"I am excited to be joining the journey that Bentley has just embarked upon with the well-defined Beyond100 strategy, in the most complex and demanding region in the world. I am looking forward to taking up this challenge and feel inspired by the way Bentley considers and treats the sustainability theme in every respect, a topic dear to my heart since its early stages decades ago now."

Prior to Amel's time with the performance marque, she worked in the communications department for both Infiniti Europe and Renault Sport Technologies.

In her new role, Amel will be responsible for all marketing and communications activities for Bentley in Europe. Headquartered in Munich, the region covers 35 countries with 70 retailers and accounts for approximately 20 per cent of total global sales, Bentley's third highest sales region.

Amel's contact details are:
Amel Boubaaya
Head of Marketing and Communications, Europe
amel.boubaaya@bentley.co.uk
+49 (0) 173 2689143

- ENDS –

Notes to editors

Bentley Motors is the most sought-after luxury car brand in the world. The company's headquarters in Crewe is home to all of its operations including design, R&D, engineering and production of the company's three model lines, Continental, Flying Spur and Bentayga. The combination of fine craftsmanship, using skills that have been handed down through generations, alongside engineering expertise and cutting-edge technology is unique to UK luxury car brands such as Bentley. It is also an example of high-value British manufacturing at its best. Bentley employs around 4,000 people at Crewe.