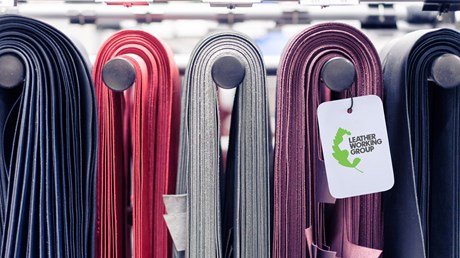 THE LEATHER WORKING GROUP WELCOMES BENTLEY MOTORS: THE FIRST EVER AUTOMOTIVE MEMBER
Bentley underscores commitment to sustainably sourcing materials, by becoming the first automotive member of the Leather Working Group (LWG)
With 1,300 members worldwide, the Leather Working Group promotes responsible business practices and environmental compliance within the leather industry
Other members of the Leather Working Group include brands such as Mulberry, John Lewis, LVMH and Adidas
(Crewe, 25 August 2021) Bentley Motors is taking another step on its Beyond100 journey towards enhancing the environmental sustainability of its products and materials, as it becomes the first automotive member of the Leather Working Group.

Established in 2005, the Leather Working Group is comprised of leather manufacturers, traders, suppliers, technical experts, as well as brands and retailers, representing a range of industries from fashion, accessories and footwear, to homewares and interiors – and now, luxury automotive. Aiming to improve environmental performance in the leather industry, the Leather Working Group audits leather manufacturers against clear best practice benchmarks and stringent audit standards which are independently monitored.

Bentley is now a fully approved corporate member and is working towards ensuring that by the start of 2022, all of its leather is sourced from suppliers and tanneries that have successfully completed the Leather Working Group audit process, with the end goal of each one achieving the Leather Working Group's gold standard award through a culture of continuous improvement.

Bentley's Head of Production Purchasing, Mark Cooke, explains:
"The use of leather and coachbuilding are hallmarks of our hundred year old history. Our cutters and trimmers are experts in their fields and the fact that so many of our heritage models still exist with their original interiors, demonstrates the longevity of leather as a core material to us and its inherent sustainability over time.

"Beyond100 is about Bentley becoming the most ethical and sustainable luxury automotive manufacturer. That's why we are ensuring that the traditional materials we use are sourced in the most sustainable way, whilst at the same time accelerating the development of new materials offering an even wider range of choice to our customers.

"As the first automotive member of the Leather Working Group, we look forward to working with our fellow members to actively shape the future of sustainably sourced leather in the automotive sector."

Bentley sources the finest leather hides from Europe, only ever purchasing leather that is an existing by-product of the food industry. The highly skilled trim team within the Bentley factory are rigorously trained to ensure all waste is minimised as they prep and prime each hide and place it within Bentley interior cabins. Leather is known to be a material which endures the test of time. Over 80 per cent of Bentley cars ever manufactured are still on the roads today, many of which contain their original leather seats. This is testament to the care, quality and attention to detail that Bentley craftspeople have taken over the past 102 years of manufacturing.

Bentley's newly affirmed status as a member of the Leather Working Group underlines the marque's commitment to ensuring each and every material is of the highest standard in terms of quality and sustainability.
- ENDS –