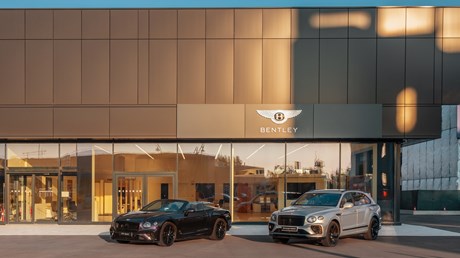 BENTLEY INAUGURATES A NEW HOME IN THE ITALIAN CAPITAL OF ELEGANCE, TECHNOLOGY AND INNOVATION
Bentley Milan opens its new sales and aftersales centre, which will be able to meet the growing demand and attention of the Italian public towards Bentley products
The new retailer will allow the display of the entire Bentley range including the recently launched GT Speed, becoming one of the main attractions of the launch event
Bentley consolidates its position in the European region, with 70 retail locations across 35 countries
(Munich, 15 October 2021) Bentley Milano has opened officially its new home in the Italian capital of elegance, technology and innovation. Appointed as an official partner in 2016, the retailer has supported the brand's continuous growth in the Italian market ever since.

Bright and welcoming, the new Bentley Milano salon boasts a 500 square metre lounge in addition to 1,000 square metres of outdoor space and 800 square metres that are devoted to the new workshop.

Customers will have the opportunity to immerse themselves in the entire range of Bentley cars and to be able to engage in the configuration of their car in a dedicated area, where they will be able to touch the leathers, dashboard finishing materials, stitching and even experience Mulliner's personal specification. Another area is dedicated to the brand, its history, its life today which speaks of elegance, design, inclusion and diversity, as well as sustainability, a living room where you can talk and learn about the history of Bentley of yesterday, but also the brand life today and the future vision.

Bentley Milano's services includes the presence of a notary in the office for administrative procedures, and above all, an attentive and punctual aftersales service, "tailored like a tailor-made garment" for its customers. The retailer guarantees, among other things, the custody of the car, tire change service, ordinary and extraordinary overhaul, services of Bentley authorized bodywork, replacement car and, where requested by the customer, a collection and return service.

The new home will display the entire timeless designed Bentley range of products. The Flying Spur range positioned as the world's definitive four-door grand tourer, inspiring the imagination – of both the driver and the drive – with its elegance of form and magical combination of luxury, performance and innovative technology. The Flying Spur is currently offered in two different powertrains and from Q1 2022 onwards in three: the essence of the FS powered by a V8, the exquisite powered by the iconic W12, and soon offering the hybrid system, which will make it the progressive Flying Spur.

The Bentayga, ultimate go-anywhere model, offers power, luxury and usability with its V8 and hybrid powertrain. That car created the luxury SUV sector at launch in 2015 and sits at the pinnacle of luxury mobility. New Bentayga builds on the success of that ground-breaking original, with the latest on-board technology, added usability and an even more cossetting, hand-built cabin. Also designed, engineered and handcrafted in Crewe, England, new Bentayga is offered with an efficient plug-in Hybrid powertrain, Bentley's proven, 4.0-litre twin-turbocharged V8, or a powerful 6.0-litre 12-cylinder petrol engine.
And last but not least, the Continental GT in its Coupe and Convertible version with the recent addition of the most dynamic Bentley road car ever. Pinnacle of the Continental GT range, the new GT Speed is the ultimate performance-focused expression of Bentley's definitive Grand Tourer, yet maintains the luxury, comfort and usability of its siblings. It is equipped with an updated version of Bentley's renowned 6.0-litre W12 TSI engine, delivering 659 PS (650 bhp) whilst maintaining an extraordinary 900 Nm (664 lb.ft) of torque. With exceptional handling, this results in a top speed of 355 km/h (208 mph) and 0-100 km/h in 3.6 seconds (0-60 mph in 3.5 seconds).

The opening night of the new Bentley headquarters in Milan saw the participation of customers and friends of the Bentley brand who met at the new home, in a typically Bentley atmosphere, where elegance and innovation were the setting for the splendid Bentley cars, with an exceptional guest, the Bentley Continental GT Pikes Peak, the record-setting winning car in 2019.
Commenting on the opening, Balazs Rooz, Regional Director Bentley Motors Europe, said:

"Growing up in one of the markets where the passion for cars and driving pleasure is a point of reference is very important for a brand of excellence like Bentley. Bentley Milano is one of our 70 retailer locations across Europe where the public's interest in the brand has grown steadily over the past few years, in line with our global half-year record performance announced some months ago. I am delighted to be part of the inauguration of this new facility which is the result of our growth ambitions and success with our new Bentley models on Italian roads. Elegance, comfort and unmistakable design are the soul of Bentley models and with the recent launch of the GT Speed, we are adding a fantastic sporting accent to the range offering."

"Italy is also benefiting from Bentley strategy across Europe," adds Ado Fassina, Dealer Principal Bentley Milan and Padua. "I am very proud to represent such an elegant, innovative and dynamic brand as Bentley in our country. If I go back to 2016 when the Fassina Group was chosen to represent Bentley, I realize how far we have come together to date. Each year we have improved our position, increased sales and increased success with the public. For us, 2021 is a new starting point, characterized by our family motto "passion guides us."

Bentley Milan is part of the European Retailer Network of 70 retail partners covering 35 territories.

Since 2016, the Italian customers can access three distinct sales and after-sales locations: Bentley Milano, Bentley Padova and Bentley Firenze. And two authorized workshops in Rome and Opera, just outside Milan.

For more information on the models in the Bentley range, please visit the Bentley Media site: https://www.bentleymedia.com/

-END-

Press kit GT Speed: https://www.bentleymedia.com/en/models/continental-gt/continental-gt-speed

Press kit Bentayga Hybrid: https://www.bentleymedia.com/en/models/bentayga/bentayga-hybrid

Press Information Pikes Peak: https://www.bentleymedia.com/en/newsitem/939-ready-to-summit-bentley-continental-gt-set-for-pikes-peak-record-attempt

Notes to editors

Bentley Motors is the most sought-after luxury car brand in the world. The company's headquarters in Crewe is home to all of its operations including design, R&D, engineering and production of the company's three model lines, Continental, Flying Spur and Bentayga. The combination of fine craftsmanship, using skills that have been handed down through generations, alongside engineering expertise and cutting-edge technology is unique to UK luxury car brands such as Bentley. It is also an example of high-value British manufacturing at its best. Bentley employs around 4,000 people at Crewe.