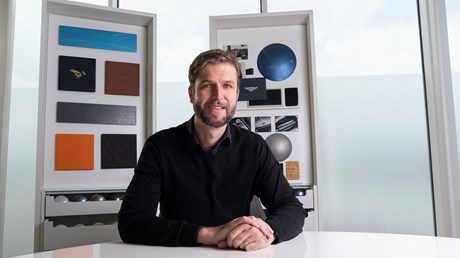 BENTLEY MOTORS APPOINTS TOBIAS SÜHLMANN AS NEW DIRECTOR OF DESIGN
Tobias Sühlmann promoted to Director of Design at Bentley Motors
Tasked with defining the design language for Bentley's electrified future
Replaces Andreas Mindt who becomes Head of Design at Volkswagen Passenger Cars
(Crewe, 24 January 2023) Bentley Motors today announces the appointment of Tobias Sühlmann as the new Director of Design, commencing 1 February 2023. He succeeds Andreas Mindt who moves to the Head of Design role at Volkswagen Passenger Cars.

Sühlmann has been promoted from his position as Head of Exterior Design at Bentley, having joined the luxury marque in October 2021. With a 20 year career in automotive design, Sühlmann has held senior design positions at McLaren, Aston Martin, Bugatti and Volkswagen's Potsdam Design Centre which he joined in 2005 before moving to Volkswagen Design in Wolfsburg in 2007. Here he worked on the Passat, Arteon and Touareg as well as different Showcars.

He was instrumental in the design of the Bentley Batur, working under the direction of Andreas Mindt. Batur embodies the start of a design revolution at Bentley, showcasing a new design DNA that will ultimately guide the design of Bentley's future range of battery electric vehicles.

Sühlmann will report directly to Dr. Matthias Rabe, Bentley's Board Member for Research and Development. Rabe comments:

"Tobias has made a very significant, positive impression since joining us in 2021 in what was, and still is, a critical, yet exciting time for the business as we accelerate our journey to full electrification by 2030. His previous experiences from luxury automotive, combined with a strong understanding of the Bentley brand and the Volkswagen Group means he is perfectly positioned to enable us to achieve our future ambitions as the leader in sustainable luxury mobility.

"We would like you to join us thanking Andreas for his significant impact on the future product design during his time at Bentley, and in wishing both him and Tobias every success in their new roles."

Working at Bentley's headquarters in Crewe, UK, Sühlmann will lead a team of approximately 50 design experts with responsibility for the exterior, interior and colour and trim design for the full current and future Bentley product portfolio, concept and showcars. Commenting on his new role, Sühlmann said:
"We are currently reimagining our design language at Bentley and so having the responsibility to lead this, working closely with all my colleagues, is a privilege. Together, we look forward to taking Bentley to a new direction and making sure modern-day Bentley's are potent, inspirational and harmonious."

- ENDS -

Notes to editors

Bentley Motors is the most sought after luxury car brand in the world. The company's headquarters in Crewe is home to all of its operations including design, R&D, engineering and production of the company's five model lines, Continental GT, Continental GT Convertible, Flying Spur, Bentayga and Bentayga EWB. The combination of fine craftsmanship, using skills that have been handed down through generations, alongside engineering expertise and cutting-edge technology is unique to UK luxury car brands such as Bentley. It is also an example of high-value British manufacturing at its best. Bentley employs around 4,000 people at Crewe.