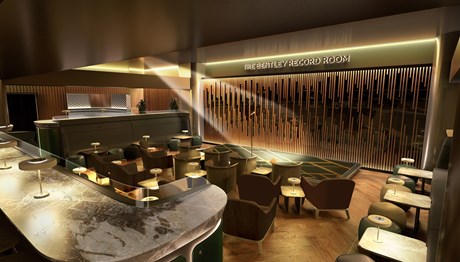 CO-OP LIVE REVEALS THE BENTLEY RECORD ROOM, THE UK'S MOST LUXURIOUS LIVE MUSIC MEMBERS' CLUB
Stunning designs for The Bentley Record Room, the most exclusive VIP experience at Co-op Live, have been revealed
Designed by the Bentley Motors Design Team, the space replicates the custom finishes and designs of its luxurious cars and will include low carbon Beluga leather seating and expertly crafted Bentley Home furniture
Luxe membership of the hospitality club is very limited with 100-person capacity and includes the best tickets to every publicly ticketed event at Co-op Live, and is expected to sell out immediately
(Crewe, 27 February 2023) Bentley Motors is pleased to announce Manchester's most exclusive luxe member's club – The Bentley Record Room – an intimate lounge designed by the Bentley Motors Design Team at Co-op Live, the highly anticipated music and entertainment arena in Manchester.

The Bentley Record Room will be located next to the performers' Green Room inside the new £365 million music and entertainment venue – set to be the largest live music arena in the UK. Luxe members will have access to the space before, during and after events at Co-op Live, with the best tickets to live shows as well as access to an exciting range of special events in The Bentley Record Room.

The 100-capacity club will offer the ultimate in luxury and intimacy for music fans, boasting high-end dining options, a private host and waiter service, designated parking, and a VIP entrance to the venue. Its sumptuous interiors will be designed by the Bentley Design Team replicating the custom finishes and designs of its luxurious cars. The space will include low carbon Beluga leather seating and expertly crafted Bentley Home furniture, created in partnership with Luxury Living Group.

Christoph Hohmann, Global Head of Brand Communications at Bentley Motors, says: "We are delighted to offer music lovers a dedicated Bentley Place – an environment that is as luxurious and cosseting as the interior of a Bentley – allowing them to experience the craftsmanship, beauty and luxury that you can find in each one of our cars but on a much larger and totally immersive scale."

Sam Piccione, President of OVG International: "Bentley is number one in British luxury, so it's the exemplar brand to name this unique room. As the UK's first private luxe members' club inside an arena, The Bentley Record Room will put Manchester ahead of anywhere else, including London, for unrivalled quality entertainment. There's no doubt it will be one of the best and most lavish places to enjoy live events anywhere in the world."

- ENDS –
Notes to editors

About Co-op Live

Oak View Group (OVG), City Football Group (CFG), Harry Styles, and Co-op are joining forces to create Co-op Live, the biggest and best arena in the UK. Based in Manchester, the project is injecting £365m of private investment into the North West. Co-op Live will be one of the world's premier music and entertainment venues, rivalling New York's Madison Square Garden, The Forum in LA and The O2 in London and is due to open in 2023.

World class, planet friendly and at the heart of the local community, Co-op Live will deliver one of the world's most pioneering, sustainable, and socially responsible venues, delivering Co-op's vision of a fairer world into the entertainment industry. The project will create 3,350 constructions jobs and 1,000 roles and apprenticeships on completion of the venue as well as giving over £1m back to national and local good causes.

Co-op Live will be located on the Etihad Campus, and will host live music, sport, comedy, award shows and family entertainment. Co-op Live's smart 'bowl' design means it is big but intimate with cutting edge visual technology, incredible acoustics and 32 bars, restaurants, lounges and club spaces.

The construction project, the single-largest in the city, will give the regional economy a much-needed boost following the devastating impacts of the Covid pandemic and will boost the local economy by over £1.5bn over the next 20 years. From locally sourced construction materials to zero waste to landfill, solar panels and rainwater harvesting, Co-op Live will be doing more to use less and leave better.
https://www.cooplive.com/

About Oak View Group

Oak View Group (OVG) is a global sports and entertainment company founded by Tim Leiweke and Irving Azoff in 2015. OVG is focused on being a positive disruption to business as usual in the sports and live entertainment industry and currently has eight divisions across global offices (Los Angeles, New York, Seattle, Philadelphia, and London).