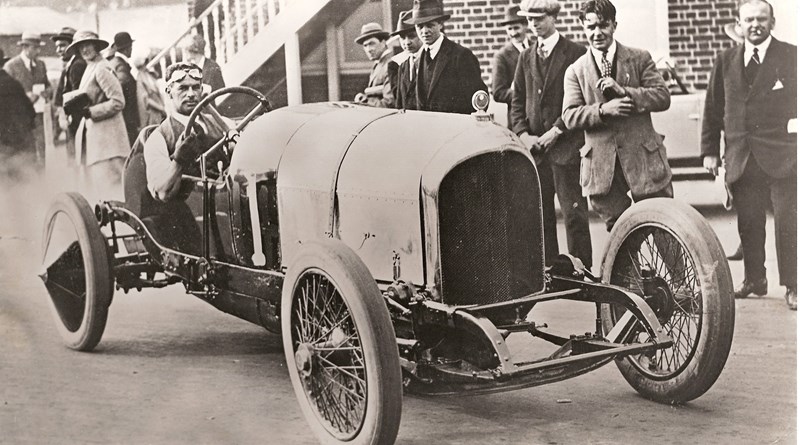 1920 Bentley EXP 2
EXP 2 is the oldest surviving Bentley, the second ever made and the first to win a race. Its value is incalculable. EXP is the prefix given by Bentley to this (and all subsequent) pre-production models.
In March 1919 The Autocar announced: "Captain WO Bentley MBE, RAF, is engaged on the design of a new sporting model…intended to appeal to those enthusiastic motorists who desire a car which, practically speaking, is a true racing car with touring accessories."
The Bentley 3 Litre drew on W.O. Bentley's pre-war competition experience, when he pioneered the use of aluminium pistons, and was influenced by two pre-war engine designs, the 1914 Grand Prix Mercedes and the 1913 Coupe de l'Auto Peugeot.
Its 3 Litre monobloc engine featured four valves per cylinder, twin spark plugs, twin magnetos and made extensive use of aluminium and magnesium; this was an advanced specification for 1920, particularly for a road-going car. Like every Bentley since, the 3 Litre engine developed generous amounts of torque from low rpm, was durable, strong and capable of high performance.
Bentley made three prototypes. EXP1 (EXPerimental No1) was built at New Street Mews off Baker Street and first ran in October 1919. EXP2 was built at Bentley's new works in Cricklewood using a chassis exhibited at Olympia in November 1919 with a plain 2-seat body. The final one, EXP3, became known The Cab and was WO's personal car.
EXP 1 received a glowing test drive report in The Autocar from pioneer motoring journalist SCH 'Sammy' Davis: "For the man who wants a true sporting type of light-bodied car for use on a Continental tour – where speed limits are not meant to be observed – the 3 Litre Bentley is undoubtedly the car par excellence." EXP 2 made its debut at the 1919 Olympia Motor Show, though due to the late arrival of some engine components it was a static display model.
EXP2 was rebodied in March 1921 by coachbuilders JH Easter; its experimental engine was replaced in 1922 by a spare TT racing engine and again in August 1922 with production engine 144.
Before then, it made an appearance as the first 'works' racing Bentley in the 1921 Essex Car Club and Whitsun meetings at Brooklands on 16 May, when driver Clement won the Junior Sprint Handicap. During the June event it featured a cowling over the radiator to reduce 'windage' and easily beat a field that included Archie Frazer Nash's V-twin GN, Malcolm Campbell (Mors) and Henry Segrave (Bugatti). WO used EXP2 for practice in the 1922 Isle of Man TT and by the time it was sold to lorry manufacturer JE Foden in 1923 for £425, EXP 2 had achieved eleven first and seven second places.
Read more
LANGUAGES

Press Information
TOP FACTS
| | |
| --- | --- |
| Date Produced | 1921 |
| Number Built | 1 |
| Price New | £425 (in 1923) |
| Body | Tourer; two doors, four seats. Chassis weight 1,450 lbs (658 kg) |
| Engine | 2996cc four-cylinder; four valves; twin spark plugs; hollow overhead camshaft; aluminium crankcase, cast-iron non-detachable cylinder head |
| Power | 175 bhp (130.5 kW) @ 3,500 rpm |
| Transmission | 4-speed |
| Chassis | 35 tonne pressed steel channel section frame, 4 riveted forged cross-members and 2 tie bars; half elliptic leaf spring suspension. Brakes: 15.75 in (40 cm) drums at rear |
| Dimensions | Wheelbase: 112 in (284.5 cm); track 56 in (142.2 cm) |
| Top Speed | 79.3 mph / 127.3 km/h |
| Fuel consumption | 22mpg (12.84L/100 km) |
| Current Value | £1 million upwards |
Share