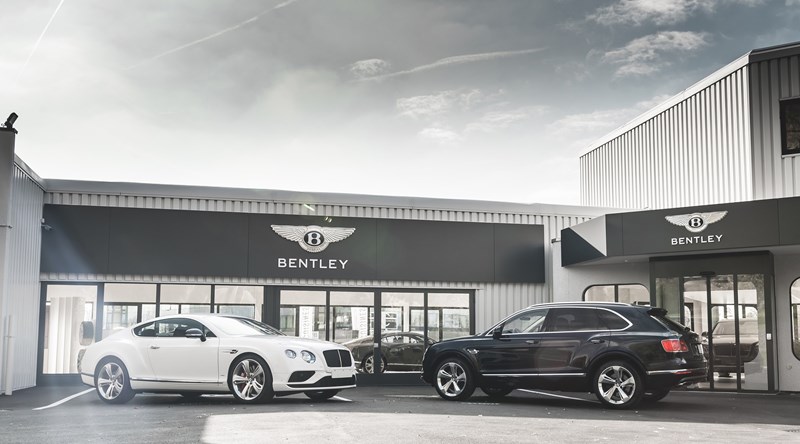 BENTLEY OPENS NEW SHOWROOM IN LAUSANNE
New Bentley retail partner in Lausanne

Showroom features Bentley corporate identity

Created with the same luxurious materials and hand-crafted with the same attention to detail as Bentley cars
(Crewe/ Lausanne, 20th December 2016) Bentley Motors today announces the opening of a brand new showroom in Switzerland.
Located in the north-west of Lausanne, the Bentley showroom measures 400 m² and reflects Bentley's global corporate identity, taking inspiration from the company's rich history and combining it with modern-day luxury retailing. Bentley Lausanne is the sixth retailer for Bentley Motors in Switzerland.
Robert Engstler, Regional Director at Bentley Motors Europe, said: "Switzerland is our biggest market in the central European region. We have found a strong partner in Bentley Lausanne and the opening of the brand-new showroom will help us to generate more growth and enlarge our customer base in Switzerland even further."
Marcel Hauselmann, Bentley Lausanne General Manager, commented: "We are very proud to represent the most successful automotive luxury brand in the world. In our showroom, customers will receive an exclusive Bentley experience and personalised service while surrounded by unparalleled design, automotive passion and unmatched attention to detail."
The new showroom in Lausanne offers customers the complete Bentley model range, including Bentley's latest model, the Bentayga Diesel, the fastest, most luxurious and most exclusive diesel SUV in the world. In addition to the Bentayga range, customers can also choose between the Continental GT, the Flying Spur and Bentley's flagship model, the Mulsanne.
The new retail partner also offers pre-owned vehicles, aftersales service and the company's branded luxury goods.
- ENDS -
Notes to editors
Bentley Motors is the most sought after luxury car brand in the world. The company's headquarters in Crewe is home to all of its operations including design, R&D, engineering and production of the company's four model lines – Continental, Flying Spur, Bentayga and Mulsanne. The combination of fine craftsmanship, using skills that have been handed down through generations, alongside engineering expertise and cutting-edge technology is unique to UK luxury car brands such as Bentley. It is also an example of high-value British manufacturing at its best. Bentley employs around 4,000 people at Crewe.
Read more