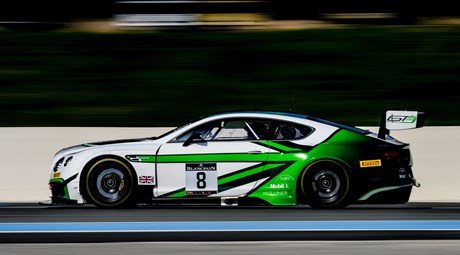 BENTLEY BEGINS A NEW GT SERIES SEASON
Bentley Motorsport's Blancpain GT Series season is underway
The opening round takes place at Misano in Italy this weekend
Bentley Team M-Sport has sights set on the overall titles
28 March 2017, Crewe – Bentley Motorsport has arrived in Misano in Italy for the opening round of the 2017 Blancpain GT Series and is aiming to get the season off to a strong start by repeating last year's race-winning success.

Misano Circuit near San Marino in Italy holds good memories for the Crewe-based race team, which celebrated victory with Andy Soucek (ES) and Maxime Soulet (BE) in the #8 Continental GT3. The pair will hope to repeat this when it goes head-to-head with more than 30 GT3 cars in this weekend's Sprint Series Cup event.

One of the challengers for the top step of the podium will be returning car #7 team-mates Steven Kane (GB), who has raced for Bentley Motorsport since the beginning of its GT3 programme, and Vince Abril, who won the GT Sprint Series Cup in 2015.

"We have two very strong pairings, which both benefit from a year of experience competing together in the Sprint Series Cup," commented Bentley's Director of Motorsport Brian Gush. "We've started the season with podium at Bathurst 12 Hours and another at the opening round of the Nürburgring VLN Series, so we're feeling confident in our drivers, team and car."

The Continental GT3, designed by Bentley at its headquarters in Crewe in 2013, has won multiple international championships including GT Asia Series and the Blancpain Sprint Series and has taken more than 100 podiums from just over 400 race starts.

"It would be a dream come true to win the Blancpain GT Series, this year," added Gush. "Each year the competition gets stronger, but so do we. We are in the best place yet to come away with some silverware and a good result in Misano will put us in a strong place to take-on the season."

The opening round of the Blancpain GT Series takes place on Saturday 1 April and Sunday 2 April and all the action is live streamed on YouTube on the GT World channel. To follow the team's progress and get involved with the action, go to Twitter and search @BentleyRacing.