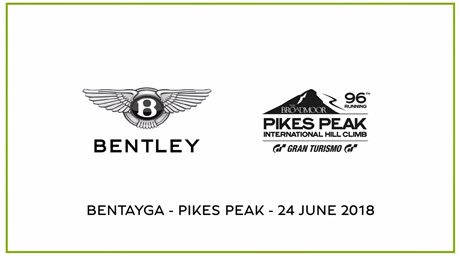 PIKES PEAK CHALLENGE FOR BENTAYGA
Bentley Bentayga enters world famous Pikes Peak International Hill Climb

The "race to the clouds" takes place in Colorado on 24th June 2018

Driver and details to be announced in due course
(Crewe, 18 January 2018) Bentley Motors will compete in the Pikes Peak International Hill Climb for the first time on 24th June 2018 with the award-winning Bentayga.
The 600 bhp, W12-powered Bentayga will tackle the famous 12.42-mile Colorado Springs hill climb with record-breaking ambitions, aiming to navigate the 156 corners of ascending asphalt quicker than any SUV before.
A car is being prepared for the competition by Bentley's motorsport department at the company's headquarters in Crewe, England. Leading the project is Bentley's Director of Motorsport, Brian Gush, who comments:
"Since its launch, the Bentayga has set the luxury SUV benchmark with its unique combination of bespoke British craftsmanship, performance and grand touring ability. We hope to set another benchmark at the 2018 Pikes Peak International Hill Climb by conquering the most demanding mountain road course in the world."
Deploying 900 Nm of torque through intelligent all-wheel-drive and state-of-the-art air suspension together with Bentley's pioneering 48-volt active anti-roll system, the Bentayga delivers extraordinary dynamic ability without compromising refinement.
Details about the project, including the driver, will be announced in due course. More information about the Pikes Peak International Hill Climb can be found at http://ppihc.org/fans/.
- ENDS -
Notes to editors
Bentley Motors is the most sought after luxury car brand in the world. The company's headquarters in Crewe is home to all of its operations including design, R&D, engineering and production of the company's four model lines – Continental, Flying Spur, Bentayga and Mulsanne. The combination of fine craftsmanship, using skills that have been handed down through generations, alongside engineering expertise and cutting-edge technology is unique to UK luxury car brands such as Bentley. It is also an example of high-value British manufacturing at its best. Bentley employs around 4,000 people at Crewe.