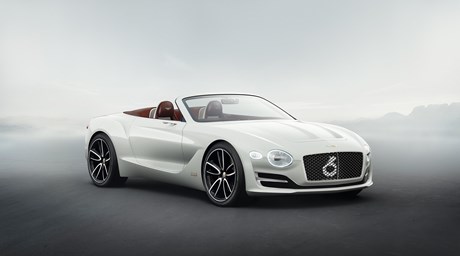 BENTLEY EXP 12 SPEED 6e WINS GOOD DESIGN® AWARD
The Chicago Athenaeum Museum of Architecture and Design and
The European Centre for Architecture Art Design and Urban Studies recognise Bentley's design excellence

Bentley concept selected from thousands of entries worldwide

EXP12 Speed 6e demonstrates ambition to define electric luxury
(Crewe, 25 January 2018) Bentley's EXP 12 Speed 6e concept car has been awarded a Good Design® award in the transportation category by the Chicago Athenaeum Museum of Architecture and Design and The European Centre for Architecture Art Design and Urban Studies – one of the most highly respected design awards in the world.
Founded in 1950, Good Design® remains the oldest and most prestigious program for design excellence in the world. The body receives submissions from thousands of the world's leading manufacturers and industrial and graphic design firms, and then a panel of experts selects the best entries in each category for their outstanding design.
The jury – which features leading designers, architects and journalists – met in New York and San Francisco in late 2017 to select to best designs in the world unveiled in the preceding 12 months.
Chicago Athenaeum Museum President, Christian Narkiewicz-Laine, said:
"EXP12 Speed 6e is a triumph for the luxury experience of high style, design, aesthetic and originality. It brings the luxury electric car to a new level."
Bentley's Design Director, Stefan Sielaff, added: "Bentley is defining the luxury electric vehicle segment. In a Bentley, the electric future will be as luxurious, effortless, exclusive and emotional as it has always been for our customers. We will take electric motoring into new areas of luxury, comfort and refinement – as only we can."
The EXP 12 Speed 6e was unveiled at the 2017 Geneva Motor Show, and is a concept to demonstrate that Bentley is defining electric motoring in the luxury sector, with the appropriate technology, high quality materials and refinement.
- ENDS -
Notes to editors
Bentley Motors is the most sought after luxury car brand in the world. The company's headquarters in Crewe is home to all of its operations including design, R&D, engineering and production of the company's four model lines – Continental, Flying Spur, Bentayga and Mulsanne. The combination of fine craftsmanship, using skills that have been handed down through generations, alongside engineering expertise and cutting-edge technology is unique to UK luxury car brands such as Bentley. It is also an example of high-value British manufacturing at its best. Bentley employs around 4,000 people at Crewe.
The Good Design® Award
The Chicago Athenaeum Museum of Architecture and Design and Metropolitan Arts Press Ltd. present the Museum's annual Good Design® Awards Program for the most innovative and cutting-edge industrial, product, and graphiτc designs produced around the world.