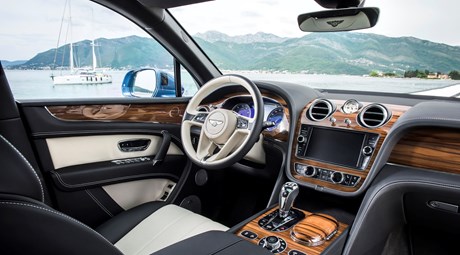 BENTLEY VENEER HUNTERS: SUSTAINABLE, UNIQUE, EXQUISITE
First new veneer in five years and one of only seven exclusive wood finishes offered, Liquid Amber embodies the quest for finest materials

New veneer is uniquely sourced from the American Red Gum tree
(Crewe, 12 February 2018) Bentley recently added its first new veneer in five years – Liquid Amber – to its collection. This is the luxury British brand's seventh exclusive veneer, encapsulating its quest for the finest materials.
The fact that new veneers are an extremely rare occurrence in Bentley interiors is due to the extraordinary lengths that the brand's team of expert veneer hunters go to in order to source the finest materials in the world.
Watch the new film documenting the journey the veneer hunters take to bring sustainable, unique and exquisite veneers to Bentley customers at www.bentleymedia.com.
Liquid Amber: A Stunning Contemporary Veneer
Liquid Amber is sourced from the American Red Gum – or American Sweet Gum tree – which grows along the rich, moist soils of the Mississippi wetlands in the south-eastern states of America.
The tree's resin is called Liquid Amber – a reference to its perfumed scent. Bentley sources only the highest quality trees, and harvests the veneer just twice a year due to restricted access across the wetlands on which it grows.
The wood undergoes a natural smoking process, which takes several weeks, to give it a deep, rich brown lustre while maintaining the warm, red hue. The Liquid Amber veneer is then transported 4,500 miles back to the team of experts in the Bentley woodshop in Crewe, where it is examined alongside the six other carefully chosen veneers available exclusively to Bentley customers.
In Pursuit of Perfection – Sourcing the Finest Materials
The seven veneers Bentley offers, including eucalyptus and olive ash, are sourced by Bentley's own veneer hunters, from countries as far apart as Canada and China.
Bentley only ever uses the finest materials, sourced from the very best species, for its cars. For example, it can take a full week to review 20,000 square metres of walnut material for the burr walnut veneer.
Bentley typically rejects between 30 and 70 percent of veneers offered and all materials must have a high-burr density, minimal sapwood and feature no bark growth or structural defects.
Each raw veneer is cut to a precise 0.6 mm layer, and each bundle of raw veneers must pass rigorous Bentley tests for stability in UV light and consistency from tree to tree. This process takes at least 18 months before the veneer is placed into a car.
Beyond Veneer
Another new material that provides an individual statement of luxury is Bentley's stone veneer. This innovative interior finish makes a luxurious, contemporary feature of a natural product formed over 200 million years.
The slate and quartzite stone is sustainably sourced from hand-selected quarries in Rajasthan and Andhra Pradesh, India – a nation with an ancient and rich culture of stone masonry.
The sections of stone are split from larger pieces and cured using glass fibre and a bespoke resin. Finally, they are shaped and finished by hand by Bentley's world-renowned Mulliner coachbuilding team at the company's headquarters in Crewe, England.
- ENDS -
Notes to editors
Bentley Motors is the most sought after luxury car brand in the world. The company's headquarters in Crewe is home to all of its operations including design, R&D, engineering and production of the company's four model lines – Continental, Flying Spur, Bentayga and Mulsanne. The combination of fine craftsmanship, using skills that have been handed down through generations, alongside engineering expertise and cutting-edge technology is unique to UK luxury car brands such as Bentley. It is also an example of high-value British manufacturing at its best. Bentley employs around 4,000 people at Crewe.