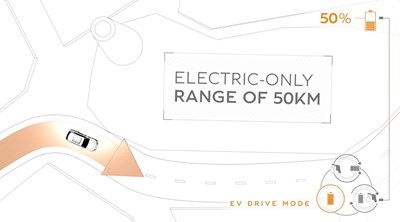 BENTAYGA HYBRID - INTELLIGENT SATELLITE NAVIGATION
Serene driving experience utilises future-focused technology
Intelligent navigation system plans most efficient use of stored energy
Advanced electric motor combines with new V6 petrol engine
(Crewe, 20 March 2018) The Bentley Bentayga Hybrid features an innovative new intelligent satellite navigation system.
When a destination is programmed into the navigation system, the Bentayga Hybrid calculates the best combination of electric drive and V6 engine to maximise efficiency over the journey.
The car automatically engages the correct drive mode for each part of the journey, constantly calculating the best use of battery charge while storing electrical energy for sections of the journey where it is most useful – such as when arriving in the city, where an electric-only range of 31 miles (50 km) in the NEDC cycle can be utilised.
The system will reduce on-board charge to zero just as the vehicle reaches its destination, maximising overall efficiency. A full charge of the battery from a domestic household socket will take 7.5 hours, and customers with an industrial connection installed at home can reduce the charge time to just 2.5 hours.
- ENDS -
Notes to editors
Bentley Motors is the most sought after luxury car brand in the world. The company's headquarters in Crewe is home to all of its operations including design, R&D, engineering and production of the company's four model lines – Continental, Flying Spur, Bentayga and Mulsanne. The combination of fine craftsmanship, using skills that have been handed down through generations, alongside engineering expertise and cutting-edge technology is unique to UK luxury car brands such as Bentley. It is also an example of high-value British manufacturing at its best. Bentley employs around 4,000 people at Crewe.
Read more
LANGUAGES

Press Contacts
Mike Sayer
UK Communications Manager
mike.sayer@bentley.co.uk
+44 (0) 1270 535133