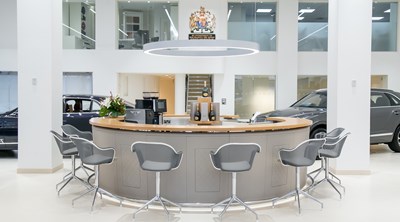 REBIRTH OF A LONDON LANDMARK: JACK BARCLAY BENTLEY RE-OPENS WITH CONTEMPORARY NEW DESIGN
Mayfair icon, Jack Barclay Bentley, receives multi-million-pound refurbishment
New design inspired by contemporary luxury boutiques and ateliers, while retaining showroom's historic features
Bentley leather-trimmed bar and a private commissioning suite among new elements
New showroom further enhances customer experience, ensuring Jack Barclay Bentley's position among the brand's leading retailers
(Crewe/London, 23rd March 2018). The oldest Bentley dealership in the world – Mayfair icon Jack Barclay Bentley – has officially reopened its doors after a comprehensive refurbishment, revealing a stunning modern luxury space that blends historic tradition with the latest in contemporary design.
Customers visiting the newly-renovated showroom will appreciate a lighter, more modern feel, resonant of the neighbouring luxury ateliers and galleries in London's exclusive Mayfair.
The customer experience has been brought into even sharper focus, with a stunning new central bar – trimmed in luxurious Bentley leather – acting as a focal point on the ground floor, and new a commissioning suite providing inspiration and offering greater privacy.
At the same time, long-standing customers will still recognise many of the showroom's original design features – such as the basement's iconic chequered floor, wood panelling and art-deco signage – which have been harmoniously woven into the new design.
Jack Barclay Bentley Brand Director, John Stone, comments: "Jack Barclay Bentley is true British institution and a real icon for both Bentley and the UK as a whole. Customers come to Mayfair from around the world to savour the Jack Barclay Bentley experience, and thanks to this stunning refurbishment, we can ensure they continue to enjoy the best service available. We are very excited to open our doors once again and plan to use the space to the full by hosting some fantastic events throughout the year."
- ENDS -
Notes to editors
About Bentley
Bentley Motors is the most sought after luxury car brand in the world. The company's headquarters in Crewe is home to all of its operations including design, R&D, engineering and production of the company's four model lines – Continental, Flying Spur, Bentayga and Mulsanne. The combination of fine craftsmanship, using skills that have been handed down through generations, alongside engineering expertise and cutting-edge technology is unique to UK luxury car brands such as Bentley. It is also an example of high-value British manufacturing at its best. Bentley employs around 4,000 people at Crewe.
About Jack Barclay
Jack Barclay Bentley is operated by H.R. Owen, Britain's leading luxury motor dealer group, dealing with some of the world's most sought-after premium car brands. The H.R. Owen Group not only operates in sales and service of premium luxury cars, but it also offers a number of related divisions across all brands including Chauffeur Drive and Insurance Services. www.hrowen.co.uk
For H.R. Owen media enquiries, please contact:
Paul Garlick – Influence Associates
t: 0207 287 9610 e: paul@influenceassociates.com
Read more
LANGUAGES

Press Contacts
Tom Housley
Head of Internal Communications
tom.housley@bentley.co.uk
+44 (0) 1270 535044