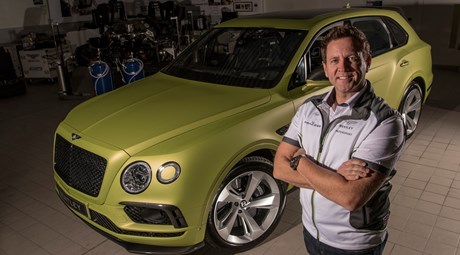 TWO-TIME CHAMPION RHYS MILLEN TO PILOT PIKES PEAK BENTAYGA
Former "King of the Mountain" Rhys Millen to drive Bentley Bentayga at 2018 Pikes Peak International Hill Climb

Bentley team and Millen aim for Production SUV record

600 bhp Bentayga built and prepared by Bentley Motorsport
(Crewe, 27 March 2018) Two-time Pikes Peak overall winner Rhys Millen will pilot a Bentley Bentayga at the 2018 Pikes Peak International Hill Climb on 24th June.
Aiming to break the existing Production SUV record of 12:35.61, the Bentayga will need to average a minimum of 60 mph up the exceptionally tight and twisty 156-corner course. With years of competition at Pikes Peak and in Red Bull Global Rallycross under his belt, Millen possesses both the ability and experience required to push the Bentayga to its limits of performance in pursuit of the record.
Pikes Peak represents the next challenge for the acclaimed Bentayga, following Bentley's tradition of testing its cars in extreme environments that has seen the Continental GT set records of 205 mph (330 km/h) on ice and over 180 mph (290 km/h) on sand, and even an unmodified Continental GT Speed tackle a stage of the World Rally Championship.
Bentley's Director of Motorsport, Brian Gush, comments:
"With two previous overall victories to his name, Rhys' credentials speak for themselves. His knowledge of the course, his professionalism as a competitor and his enthusiasm for the project make him the perfect choice for us. In the Bentayga we've given Rhys the perfect opportunity to claim another Pikes Peak record, and I'm confident he can set an impressive time when the race takes place on 24th June."
The race-ready Bentayga, featuring an unmodified 600 bhp, 900 Nm (664 lb.ft) Bentley W12 engine, has been prepared by a dedicated team in Bentley's motorsport department in Crewe. The car has been built as close to production standard as possible, with minimal changes in accordance with the Production Class rules. A full roll cage, onboard fire suppression system, racing seats and harnesses ensure Millen's assault on the mountain will be as safe as it is fast. Production tyres will be supplied by Pirelli, and the car will run with a custom exhaust system from Akrapovic, who also produced the bespoke exhaust for the Bentley Continental GT3-R motorsport-inspired model. In every other respect, including the air suspension with 48V electric active anti-roll control, the car will be as per an unmodified production Bentayga.
Finished in "Radium Satin" and complete with black chrome exterior brightware and a full carbon fibre body kit, the Pikes Peak Bentayga now enters a phase of high-speed performance testing in the USA prior to the 12.42-mile challenge.
45 year-old New Zealand native Rhys Millen comes from a family long-associated with Pikes Peak. Rhys is the son of Rod Millen, the second most prolific Pikes Peak competitor in history with five overall victories to his name. Rhys followed in his father's legendary footsteps when he took the Pikes Peak title for the first time in 2012, followed by a second victory in 2015. Rhys comments:
"The opportunity to race with Bentley at Pikes Peak is one that I couldn't pass up. I visited the Bentley factory in Crewe, England last month and was amazed at the level of skill that goes in to handcrafting these cars. I also had the chance to drive the race-prepared car for the first time and was blown away by the performance that's already available. I'm really looking forward to preparing for the race, competing on the mountain with Bentley and hopefully claiming a new SUV record."
- ENDS -
Notes to editors
Bentley Motors is the most sought after luxury car brand in the world. The company's headquarters in Crewe is home to all of its operations including design, R&D, engineering and production of the company's four model lines – Continental, Flying Spur, Bentayga and Mulsanne. The combination of fine craftsmanship, using skills that have been handed down through generations, alongside engineering expertise and cutting-edge technology is unique to UK luxury car brands such as Bentley. It is also an example of high-value British manufacturing at its best. Bentley employs around 4,000 people at Crewe.