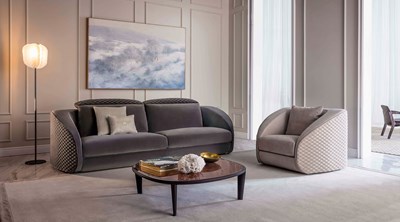 BENTLEY HOME DESIGN COMPETITION ENTERS FINAL WEEK
Limited edition of 100 pieces to be made by Bentley Home
Product launch at Salone del Mobile di Milano next year
Winner invited for Bentley design immersion visit to Crewe
(Crewe, 21 September 2018) Today is the start of the final week for entrants to participate in a global furniture design competition to celebrate the centenary celebrations of Bentley Motors.
The winning design will be launched at the Salone del Mobile in Milan, Italy, in April 2019 alongside the Bentley Home collection, and a limited edition of 100 pieces will be made and sold globally.
Aspiring designers are invited to visualise a single piece of furniture or lighting to celebrate this occasion. The designs should reflect Bentley's design DNA, use of exquisite materials and project a vision for the future. The piece should be desirable, iconic and commercially viable as a single piece of furniture and suitable for any home or office around the world.
An immersion day with the styling team at Bentley headquarters in Crewe on November 8th will allow the winner to meet and talk to senior designers and to experience the real-life design process from conception of a new model onwards.
"This is a wonderful opportunity for a new talent to bring their concept to life," said Romulus Rost, Head of Interior Design and Colour and Trim.
"It is a once-in-a-lifetime chance for a budding designer to see 100 examples of their furniture or lighting design produced and presented at one of the world's leading furniture fairs. Bentley designers will help them along this path to translate their design vision to reality."
For almost 100 years Bentley has been crafting the world's most powerful and luxurious cars for the most extraordinary individuals around the globe. As Bentley approaches its next century it will celebrate the highlights of its history and look forward to the next 100 extraordinary years of sustainable, luxury mobility.
The competition is open to anybody in full-time education. To enter the competition email DesignCompetition@Bentley.co.uk stating your name, address, email, date of birth and place of education. Attach your design as a pdf/dwg/jpeg file no larger than 6 MB. Your design should be in full colour with an indicative scale and detail materials to be used, finishes etc.
The closing date for applications is 17:00 GMT on Friday 28th September 2018 and the successful candidate will be informed by Friday 19th October 2018.
For full competition terms and conditions, please visit www.bentleymotors.com/BentleyHomeCompetition
- ENDS -
Notes to editors
Bentley Motors is the most sought after luxury car brand in the world. The company's headquarters in Crewe is home to all of its operations including design, R&D, engineering and production of the company's four model lines, Continental, Flying Spur, Bentayga and Mulsanne. The combination of fine craftsmanship, using skills that have been handed down through generations, alongside engineering expertise and cutting-edge technology is unique to UK luxury car brands such as Bentley. It is also an example of high-value British manufacturing at its best. Bentley employs around 4,000 people at Crewe.
Read more
LANGUAGES