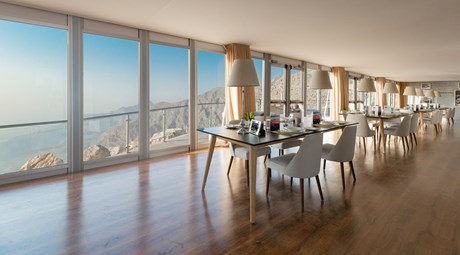 THE PEAK OF LUXURY: BENTLEY CREATES HIGHEST FINE-DINING RESTAURANT IN ARABIA
1,934 metres above sea level on Jebel Jais, luxurious pop-up restaurant is highest fine-dining restaurant in Middle East
Renowned British Chef, Colin Clague, creates bespoke menu inspired by British craftsmanship
Extraordinary dining experience open for just seven days to celebrate Middle East launch of all-new Continental GT
Watch a film documenting the experience at www.bentleymedia.com
(Middle East, 11 October 2018) Bentley recently created Arabia's highest fine-dining experience on the summit of the UAE's tallest mountain, Jebel Jais.
The luxury pop-up restaurant was open for just seven days and served hand-picked VIP diners a specially designed menu of classic British dishes – with a Middle Eastern twist – created by renowned chef, Colin Clague.
The restaurant was constructed to celebrate the Middle East launch of the all-new Continental GT, and to demonstrate the levels of bespoke luxury Bentley delivers through truly extraordinary customer experiences. Located on the summit of Jebel Jais in Ras Al Khaimah – renowned the world over for its dynamic, twisting roads – Bentley's luxury dining room sat 1,934 metres above sea level and was styled in keeping with a traditional Arabic tent.
Stepping inside, guests were transported to a five-star luxury restaurant with hand-picked contemporary furniture, sumputuous materials and spectacular panoramic views across the stunning mountain range.
British chef, Colin Clague – who has worked in some of the Middle East's leading restaurants including the Burj Al Arab, Ruya and Zuma – curated a bespoke five-course menu taking inspiration from the luxury and performance traditions of Bentley and its illustrious history in Grand Touring.
Using the finest local produce, Colin individually designed each classic British dish with a Middle Eastern twist for the special occasion.
Clague said: "Working with Bentley – which is a British icon – on such an innovative project has been a very unique experience. Over the course of my career I've worked in many kitchens in many countries across the globe, but I've never served dinner in a completely bespoke restaurant on the highest mountain in the UAE. It's certainly a moment I will never forget."
The All-New Continental GT – The Definition of Luxury Grand Touring
The third generation of the GT is designed, engineered and handcrafted in Great Britain, and is a sublime example of luxury engineering which brings together natural materials and cutting-edge technology.
At the heart of the new Continental GT sits an all-new, enhanced version of Bentley's renowned 6.0-litre, twin-turbocharged W12 TSI engine, mated, for the first time, to a dual-clutch eight-speed transmission, for faster, more efficient gear changes.
A new, technically advanced, adaptive chassis uses Bentley's intelligent 48-volt Dynamic Ride System to ensure a responsive ride and exceptional handling and refinement in all road conditions. The new system controls ride comfort and lateral roll, cushioning passengers from excessive movement as well as making the car feel effortlessly precise.
The muscular exterior design, created using revolutionary technology, results in a lightweight, yet stiff, body. The engine is positioned further back to improve weight distribution, resulting in driver-focused, dynamic performance.
Offering four seats and improved luggage capacity for genuine real-world usability, the new Bentley Continental GT's luxurious cabin is packed with exquisite details such as a new 'diamond in diamond' leather design. In addition, significant work has gone into harmonising the extensive portfolio of 15 colours across hides and carpets.
The new Continental GT also showcases major evolutions in Bentley's unique application of technology. An advanced, fully digital, driver-focused instrument panel and Bentley Rotating Display for the driver are among the suite of innovations. The latter features an impressive 12.3" touchscreen housed in a three-sided unit, which revolves the veneer to reveal the touchscreen as well as three elegant analogue dials.
The interior design of the Continental GT is tailored specifically to the modern luxury customer, with unrivalled attention to detail that creates an effortless ownership experience. The cabin seamlessly integrates cutting-edge onboard technology with the finest handcrafted natural materials. The result is an exquisite, harmonised, connected and luxurious space.
The new Continental GT is powered by an enhanced version of Bentley's renowned 6.0-litre W12 TSI engine, delivering 626 bhp and reaching 0-100 km/h in a swift 3.7 seconds, the new dual-clutch, eight-speed transmission offers faster, more efficient performance.
-Ends-
Notes to editors
About Colin Clague
Chef Colin is the executive chef of Rüya, one of the few authentic, contemporary Anatolian restaurants in Dubai, UAE. Clague brings over 30 years of wide-ranging culinary experience to the table, having previously worked at multinational hotels and restaurants across the world. The chef most recently worked in the world-class, fine-dining restaurants Jean-Georges and Q'bara in Dubai. Some of Clague's notable achievements include being part of the pre-opening team for the Burj Al Arab in Dubai, and holding the position of executive chef at the award-winning Japanese izakaya restaurant Zuma in London and Dubai. He was also in charge of the pre-opening and opening of Michelin-starred restaurant Pollen by Chef Jason Atherton, the UAE restaurant portfolio of Caprice Holdings, and launching the Ivy at the Jumeirah Emirates Towers.
About Bentley Motors
Bentley Motors is the most sought-after luxury car brand in the world. The company's headquarters in Crewe is home to all of its operations including design, R&D, engineering and production of the company's four model lines, Continental, Flying Spur, Bentayga and Mulsanne. The combination of fine craftsmanship, using skills that have been handed down through generations, alongside engineering expertise and cutting-edge technology is unique to UK luxury car brands such as Bentley. It is also an example of high-value British manufacturing at its best. Bentley employs around 4,000 people at Crewe.