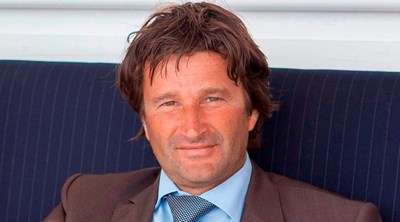 CHRISTOPHE GEORGES APPOINTED PRESIDENT AND CEO OF BENTLEY MOTORS, INC.
Christophe Georges returns to lead key Americas region
Replaces Mark Del Rosso who joins Audi of America
(Crewe/Reston, VA, 19 October 2018) Bentley Motors today announces that Christophe Georges will become President and CEO of Bentley Motors, Inc. - the regional office for Bentley Motors in the Americas - on 1st December 2018. He succeeds Mark Del Rosso who was recently appointed as President of Audi of America.
Georges, who will lead the Americas region for the second time - previously between 2007 and 2015 - leaves his role as Director of Product and Marketing for Bentley's global organisation. He will continue to report directly to Chris Craft, Bentley's Member of the Board for Sales, Marketing and Aftersales. Craft comments:
"I am delighted to welcome Christophe back to the Americas region. He brings a wealth of knowledge of the ultra-luxury market and a strong understanding of the Bentley brand. As we embark on the most intensive period of new model introductions in Bentley's history, I am confident Christophe will continue to drive the company's success in this key market.
"I would also like to thank Mark for the significant contribution he made in his time at Bentley, playing a crucial role in reinforcing the company's position in the region."
Georges joined Bentley Motors in 1998 and has led the European and Americas regions before taking responsibility for the company's marketing and product activities. He comments:
"I look forward to re-establishing my close relationships with our customers and retailers in the region, driving the brand and network presence further and introducing our next generation of products to the market, starting with the all-new Continental GT next year."
There are 61 Bentley retailers throughout the Americas with the corporate headquarters based in Reston, Virginia. The region is one of Bentley's most important markets, accounting for more than 20 per cent of global sales.
- ENDS –
Notes to editors
Bentley Motors is the most sought after luxury car brand in the world. The company's headquarters in Crewe is home to all of its operations including design, R&D, engineering and production of the company's four model lines, Bentayga, Continental, Flying Spur and Mulsanne. The combination of fine craftsmanship, using skills that have been handed down through generations, alongside engineering expertise and cutting-edge technology is unique to UK luxury car brands such as Bentley. It is also an example of high-value British manufacturing at its best. Bentley employs around 4,000 people at Crewe.
Read more
LANGUAGES

Press Contacts
Matthew Reed
Corporate Communications Manager
matthew.reed@bentley.co.uk
+44 (0) 1270 536433
Jeff Kuhlman
Chief Communications Officer - Americas
jeffrey.kuhlman@bentley-usa.com
+1 (703) 826-7530