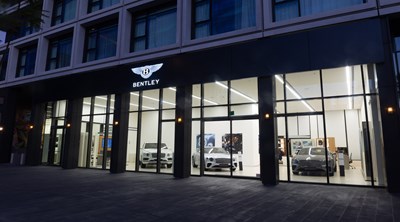 BENTLEY OPENS FIRST SHOWROOM IN ISRAEL
Bentley Tel Aviv to be the brand's official retailer in Israel
Showroom created with the same luxurious materials and handcrafted with the same attention to detail as Bentley cars
(Crewe/Tel Aviv, 9 November, 2018) Bentley Motors celebrates the official opening of a new showroom in Tel Aviv – the luxury British brand's first and exclusive retailer in Israel.
Bentley Tel Aviv is located at Galgalei Haplada street in Herzliya. The new facility – which was developed in collaboration with Orchid Sports Cars Israel Ltd. – offers the full Bentley model range, aftersales services and the luxurious Bentley Collection handcrafted accessories.
The showroom opening marks market-entry for the all-new Continental GT, the definition of luxury Grand Touring, designed, engineered and handcrafted in Crewe, UK.
Robert Engstler, Regional Director for Europe, said: "We are pleased to enter the Israeli market for the first time, an important step in our expansion in Europe. With this new retailer we ensure that our customers have a unique Bentley experience and we are proud to set a new benchmark in the luxury automotive market in the country."
Guy Meyohas, Chairman of Orchid Sports Cars, commented: "Orchid Sports Cars is pleased to announce the cooperation with Bentley Motors and would like to thank Bentley for its trust and support in choosing us as official retail partner of the Bentley brand in Israel. After expanding the market for super-premium cars in Israel, we came to realize that there is room for additional luxury brands. We look forward to a long and fruitful cooperation."
The new showroom reflects Bentley's global corporate identity, taking inspiration from the company's rich history and combining it with modern-day luxury retailing. It also features a private personalisation area where customers can choose from the brand's broad palette of exterior paints and leather options.
Being the exclusive Bentley retailer in Israel, Bentley Tel Aviv offers customers the full model range, consisting of Flying Spur, Mulsanne, Bentayga and the all-new Continental GT.
– ENDS –
Notes to editors
Bentley Motors is the most sought after luxury car brand in the world. The company's headquarters in Crewe is home to all of its operations including design, R&D, engineering and production of the company's four model lines, Bentayga, Continental, Flying Spur and Mulsanne. The combination of fine craftsmanship, using skills that have been handed down through generations, alongside engineering expertise and cutting-edge technology is unique to UK luxury car brands such as Bentley. It is also an example of high-value British manufacturing at its best. Bentley employs around 4,000 people at Crewe.
Read more
LANGUAGES

Press Contacts
Olga Firsova
Retailer Communications Manager
olga.firsova@bentley.co.uk