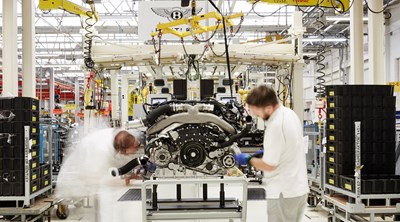 BENTLEY MOTORS MAINTAINS TOP EMPLOYER STATUS WITH PROFESSIONAL DEVELOPMENT FOCUS
Top Employer Institute names Bentley as a Top Employer for the eighth consecutive year
Highlights attention to continuous improvement, talent management and effective learning and development processes
(Crewe, 01 February 2019) Bentley Motors has again been named as a Top Employer by the internationally recognised Top Employer Institute who commended the company's commitment to professional development and nurturing of future talent.
The award is the eighth successive year Bentley has been recognised and is presented at the same time that the company and its 4,000-strong workforce celebrate its centenary.
Commenting on the achievement, Dr. Astrid Fontaine, Member of the Board for People, Digitalisation & IT, said:
"Looking into the future, our goal is to plan and enable the skills and work environment we will need to support the next generation of Bentley experts as they lead the way in the delivery of sustainable luxury mobility."
The annual international research - undertaken by the Top Employers Institute - recognises leading employers around the world which provide excellent working conditions, make every effort to continuously enhance recruitment processes and nurture and develop talent throughout all levels of the business.
Later this month, Bentley Motors will launch its latest recruitment campaign for Apprentices, covering many business areas. The new cohort, starting in autumn 2019 will join the 250 people already on trainee programmes.
- ENDS –
Notes to editors
Bentley Motors is the most sought after luxury car brand in the world. The company's headquarters in Crewe is home to all of its operations including design, R&D, engineering and production of the company's four model lines, Bentayga, Continental, Flying Spur and Mulsanne. The combination of fine craftsmanship, using skills that have been handed down through generations, alongside engineering expertise and cutting-edge technology is unique to UK luxury car brands such as Bentley. It is also an example of high-value British manufacturing at its best. Bentley employs around 4,000 people at Crewe.
Read more
LANGUAGES

Press Contacts
Matthew Reed
Corporate Communications Manager
matthew.reed@bentley.co.uk
+44 (0) 1270 536433