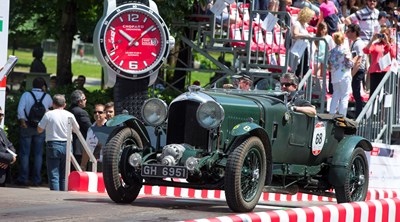 BRITISH SPEED IN ITALY: BENTLEY MARKS CENTENARY WITH MILLE MIGLIA RUN
Bentley celebrates its Centenary in 2019
World-famous Mille Miglia thousand-mile race first ran in 1927
Bentley Blower was due to become first British car to compete in 1930
2019 marks 89 years since Birkin and Barnato's aborted attempt
Bentley fields two Blowers in this year's 'regularity' race, including the legendary 'Birkin Blower'
(Crewe, 9 May 2019) In 1930 the legendary Bentley Blower was due to become the first British car to compete in the Mille Miglia race. Despite the best efforts of 'Bentley Boys' Sir Henry 'Tim' Birkin and then-CEO Woolf Barnato, this attempt was aborted prior to the race commencing as the gentlemen felt there was a lack of preparation to complete a successful run. Nine decades later, Bentley is returning to the historic race to finish what the 'Bentley Boys' didn't.
Birkin and Barnato were to be the first British drivers to attempt the thousand-mile Italian test of endurance, in a supercharged 'Bentley Blower' known as the No. 2 'Birkin Blower'. According to contemporary media reports, however, "much disappointment was felt at the news of the Bentley withdrawal from the Brescia Thousand Miles Race".
This year, two original 1930 4½-litre supercharged Blowers (the 'Birkin Blower' UU5872 and the 'Demonstrator' GH6951) are aiming to finish what the 'Bentley Boys' didn't, taking on the world-renowned cross-country route between May 15 and 18. The Blowers will be driven by Bentley's Director of Motorsport, Brian Gush, and Head of Royal and VIP Relations, Robin Peel. They will be closely followed by a Bentayga – the world's most luxurious SUV - capturing every moment of this landmark occasion.
Bentley Chairman and Chief Executive, Adrian Hallmark, said: "While Birkin and Barnato were ultimately unsuccessful in their attempt to take on the Mille Miglia in 1930, their entry 89 years ago enables us to bring together one of the world's most iconic pre-war racers and one of its most iconic motoring events. And we take the 'Bentley Boy' spirit with us in this centenary-year run."
Blower Bentley – An Enduring Legacy
The Blowers feature their original Vanden Plas Open Sports Four-Seat body. They were described by Autocar magazine in September 1930 as having "the appeal of immense power, linked with great docility" – qualities the team will be hoping to exploit in Italy.
The Bentley 4½ Litre was nearing the end of its development cycle by 1928, as other manufacturers finally began to catch up with the innovative W.O. Bentley's superlative engine design. W.O.'s response was to increase the engine capacity, and his 6½ Litre model won Le Mans in 1929 and 1930.
However, racing driver Sir Henry Birkin wanted to apply a new supercharger to the engine of the existing 4½ Litre car instead. To W.O.'s displeasure, Birkin persuaded Bentley's new owner and chairman, fellow Bentley Boy and British financier Woolf Barnato, to build him five supercharged Blowers for the racetrack.
And to meet the racing rules of the era, 50 production Blower Bentleys were built for the road too – all featuring the legendary supercharger installation developed by Amherst Villiers.
Inspired by a Racing Legend: Continental Number 9 Edition by Mulliner
Bentley has created the ultimate collector's version of the all-new Continental GT to celebrate the company's centenary in 2019.
The Continental GT Number 9 Edition by Mulliner features a wood insert from the seat of Birkin's iconic 1930 No. 9 Le Mans race car, which was removed during a sympathetic renovation. This backlit piece is set in resin and situated in the middle of the centre dial of the rotating display, adding a piece of history to each car.
Each of the 100 cars also features the choice of Cumbrian Green or Beluga heritage hides, unique engine spin finish to the dashboard, 18K gold plated organ stops inspired by those in the No.9 'Blower' and '1 of 100' treadplates.
Bentley's Centenary – 100 Years of Extraordinary
In 1919 Walter Owen (W.O.) Bentley created a company with a simple objective: to build "a fast car, a good car, the best in its class". This guiding principle has driven Bentley ever since, pushing the brand forward and making it the leader in automotive luxury around the world today.
The 10th of July 2019 marks Bentley's 100th year. This extraordinary milestone – reached by only a special few companies – will be a cause for celebration of the company's history and its global success today.
- ENDS –
Notes to editors
About Mille Miglia
For more information on the Mille Miglia visit www.1000miglia.it
The Mille Miglia was an open-road, motorsport endurance race which took place in Italy twenty-four times from 1927 to 1957 (thirteen before the war, eleven from 1947). In 1977 it was reborn as a regularity race for classic and vintage cars. Participation is limited to cars, produced no later than 1957, which had attended (or were registered in) the original race. The route (Brescia–Rome round trip) is similar to that of the original race, maintaining the point of departure/arrival in Viale Venezia in Brescia.
About Bentley
Bentley Motors is the most sought after luxury car brand in the world. The company's headquarters in Crewe is home to all of its operations including design, R&D, engineering and production of the company's four model lines, Continental, Flying Spur, Bentayga and Mulsanne. The combination of fine craftsmanship, using skills that have been handed down through generations, alongside engineering expertise and cutting-edge technology is unique to UK luxury car brands such as Bentley. It is also an example of high-value British manufacturing at its best. Bentley employs around 4,000 people at Crewe.
Read more