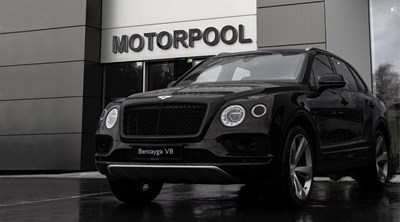 BENTLEY OPENS SHOWROOM IN OSLO
Bentley enters Norwegian market with Oslo retailer
Presentation of world's first luxury hybrid - The Bentayga Hybrid​
(Crewe/Oslo, 10th May, 2019) Bentley Motors today announces the official opening of a new showroom in Oslo, Norway. As part of the opening celebration, the Bentayga Hybrid, the world's first luxury hybrid, was presented to an exclusive audience.
The new showroom, located at Asker, outside Oslo, offers customers the full model range, consisting of the Bentayga, Flying Spur, Mulsanne and the all-new Continental GT.
The highlight of the opening saw the presentation of the Bentayga Hybrid - Bentley's first step towards electrification. Also on display was the Bentley Continental GT, which combines spirited, focused performance with handcrafted luxury and cutting edge technology.
Robert Engstler, Bentley's Regional Director for Europe, said: "We are pleased to enter the Norwegian market for the first time, an important step in our expansion in Europe, particularly with the huge potential for the Bentayga Hybrid in this market. With this new retailer we will ensure that our customers have a unique Bentley experience and we are proud to set a new benchmark in the luxury automotive market in the country."
Nils Tronrud, Chairman of the Board and Owner of Bentley Oslo, said: "The Norwegian market is the largest Hybrid market in the European Union and we are extremly proud to establish a luxury brand such as Bentley Motors. It's with great pleasure and excitement we experience overwhelming feedback and interest from all over Norway for the Bentayga Hybrid and the other Bentley models."
– ENDS –
Notes to editors
Bentley Motors is the most sought after luxury car brand in the world. The company's headquarters in Crewe is home to all of its operations including design, R&D, engineering and production of the company's four model lines, Bentayga, Continental, Flying Spur and Mulsanne. The combination of fine craftsmanship, using skills that have been handed down through generations, alongside engineering expertise and cutting-edge technology is unique to UK luxury car brands such as Bentley. It is also an example of high-value British manufacturing at its best. Bentley employs around 4,000 people at Crewe.
Read more
LANGUAGES

Press Contacts
Caren Jochner
Head of Marketing & Communications Europe
caren.jochner@bentley.co.uk