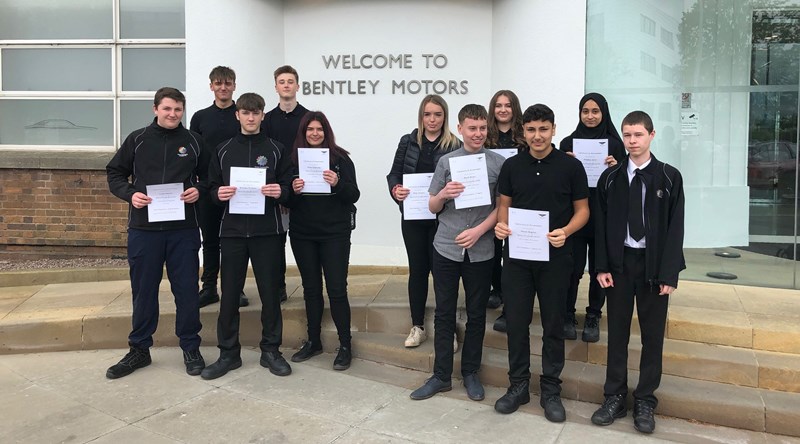 BENTLEY MOTORS OFFERS UTC STUDENTS GLIMPSE OF THE FUTURE
Bentley runs week-long work experience programme for 14 year olds
Students from Bentley sponsored Crewe University Technical College
Working across key departments including Manufacturing, Engineering and Digitalisation
(Crewe, 31 May 2019) Bentley Motors has welcomed a group of Year 10 students from partner school, Crewe Engineering and Design UTC, to get hands-on experience behind the world's leading luxury car brand.
Eleven students, all aged 14, participated for one week within a dedicated area of Manufacturing, Engineering or Digitalisation. Opportunities allowed the students to work alongside Bentley's famous production line, using materials applied to handcraft Bentley's car interiors.
In this centenary year, focus was also on Bentley's future, with students learning about alternative powertrains in Electrical Engineering and in Digitalisation, including innovations in luxury car services of tomorrow.
Commenting on the work experience programme, Astrid Fontaine, Bentley's Member of the Board for People, Digitalisation and IT, said:
"We are proud sponsors of the University Technical College and have already welcomed students completing their studies to begin their career path with Bentley. This programme gives the next generation a valuable insight into our business, and what they should expect in their future careers.
"It's vital that we look to experts of tomorrow and cultivate an agile mind-set, focused on creative solutions and innovations. I hope to see them again soon, once they finish their studies, and together we can help prepare Bentley for the future."
Crewe Engineering and Design UTC offers specialist courses to 14-19 year olds, combining both vocational and academic training, ensuring a pipeline of new recruits with the right skills and knowledge to drive the region's long term success and that of the local supply chain.
Danielle King, one of the UTC students who spent a week in Bentley's Woodshop, said:
"To have a company like Bentley so closely linked to the UTC is great. It was a really interesting week and I got to experience so many things, not just how much work goes into making every Bentley. Working in industry at the same time as my studies is exactly why I joined the UTC and I think this experience will really help me prepare for my future."
Bentley was recently recognised for its commitment to school leavers after being named as the number one automotive employer for school leavers in the UK by careers guidance company, AllAboutSchoolLeavers.
- ENDS -
Notes to editors
Bentley Motors is the most sought after luxury car brand in the world. The company's headquarters in Crewe is home to all of its operations including design, R&D, engineering and production of the company's four model lines, Bentayga, Continental, Flying Spur and Mulsanne. The combination of fine craftsmanship, using skills that have been handed down through generations, alongside engineering expertise and cutting-edge technology is unique to UK luxury car brands such as Bentley. It is also an example of high-value British manufacturing at its best. Bentley employs around 4,000 people at Crewe.
Read more
LANGUAGES

Press Contacts
Matthew Reed
Head of Corporate Communications
matthew.reed@bentley.co.uk
+44 (0) 1270 536433
Wayne Bruce
Director of Communications
wayne.bruce@bentley.co.uk
+44 (0) 1270 535189