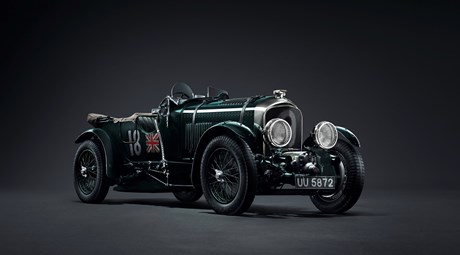 BENTLEY'S ICONIC 1929 TEAM BLOWER TO BE REBORN WITH 12-STRONG CONTINUATION SERIES
Bentley's most revered heritage car to be recreated, in world first continuation of a pre-war race car
Specialist Mulliner team to reverse engineer Sir Tim Birkin's famous 4½-litre Team Blower to create new cars
12 new Blowers, each identical to the original, to be built – one for every race the original Team Blowers entered
Skills proven by recently completed 1939 Corniche restoration
Follows success of one hundred Blower-inspired Continental GT Number 9 Edition cars, now sold-out
Continuation Series announced at Salon Privé Concours d'Elegance
(8 September 2019, Crewe) One of the most iconic cars from Bentley's history – Sir Tim Birkin's 1929 supercharged 4½-litre "Blower" – is to be reborn with a new build of 12 matching cars, each individually handcrafted by a team of specialists from Bentley's bespoking and coachwork division, Mulliner. Together, the new cars will form the world's first pre-war race car continuation series.
Only four original 'Team Blowers' were built for racing by Birkin, in the late 1920s. All were campaigned on the racetracks of Europe, with the most famous car – Birkin's own Team Car No. 2, registration UU 5872 – racing at Le Mans and playing a pivotal role in the factory Bentley Speed Six victory in 1930.
Now, using a combination of generations of handcraftsmanship skills and the very latest digital technology, the 1929 Team Blower will be the master example for 12 continuations - one for each race that the original fleet of four Team Blowers competed in.
The Bentley Blower Continuation Series was announced today at the Salon Privé Concours d'Elegance by Bentley's Chairman and Chief Executive, Adrian Hallmark, who comments:
"As we continue to commemorate 100 years of Bentley, we are combining a look to our past with the very latest digital technologies and techniques to create something truly extraordinary. The four Team Blowers are the most valuable Bentleys in the world, and we know there is demand for genuine recreations that can be used, enjoyed and loved without risk to the prized originals.
'The twelve new Blowers will not only be an homage to our heritage, they will be a celebration of the outstanding skills of our Mulliner craftspeople. This is a new challenge for Bentley, but with the incredible success of the recent restoration of our 1939 one-of-one Corniche, we wanted to go one step further and make something even more special. Twelve lucky customers will soon be able to own a unique tribute to Bentley's history."
Bentley's own Team Blower – chassis number HB 3403 - will be disassembled to its individual components, before each part is catalogued and meticulously scanned in 3D to create a complete digital model of the entire car. Using the original 1920s moulds and tooling jigs, and an array of traditional hand tools alongside the latest manufacturing technology, 12 sets of parts will then be created, before Bentley's skilled heritage technicians assemble the new Blowers. The 12 continuations will be identical wherever possible to the original – mechanically, aesthetically and spiritually – with only minimal hidden changes dictated by modern safety concerns.
The original car will then be reassembled, with the heritage team taking the opportunity to complete a detailed inspection and sympathetic mechanical restoration where required. The 90-year old car is still used regularly on the road, including completion of this year's Mille Miglia, daily hill runs at the Goodwood Festival of Speed and a recent tour up the California coastline including a parade at Laguna Seca and culminating in the 2019 Pebble Beach Concours d'Elegance, where the car appeared with two of the other three Team Blowers.
The project is the latest in a series of commissions for Mulliner, which includes the recent Continental GT Number 9 Edition – a stunning iteration of Bentley's third generation Grand Tourer, inspired by the Team Blower. Each of the 100 hundred cars being built features a piece of the original car set in to the dashboard, and the series sold-out immediately when announced.
As continuations of the original Team Blower, each of the new Continuation Series cars will feature four-cylinder, 16-valve engines with an aluminium crankcase with cast iron cylinder liners and non-detachable cast-iron cylinder head. The supercharger will be an exact replica of the Amherst Villiers Mk IV roots-type supercharger, helping the 4398 cc engine to develop 240 bhp @ 4,200 rpm. The car's structure will be a pressed steel frame, with half-elliptic leaf spring suspension with copies of Bentley & Draper dampers. Recreations of Bentley-Perrot 40 cm (17.75") mechanical drum brakes and worm and sector steering complete the chassis.
It will take Mulliner approximately two years of meticulous work to complete the 12-car series. Prices will be on application.
The Iconic 'Team Blower'
No other pre-war Bentley had an impact like the supercharged 4½-litre 'Blower' Bentley. While it never won an endurance race, the Blower Bentley was the outright fastest race car of the day, and counted amongst its fans the author Ian Fleming – who later decided that his famous fictional secret agent James Bond would drive a supercharged 4½-litre Bentley, with the often-associated rival British sports car merely the MI6 "pool car".
The Blower Bentleys were born from a philosophy devised by Sir Tim Birkin – notable racing driver and Bentley Boy – to extract more speed from the racing Bentleys of the day. While W.O Bentley's method was to increase engine capacity – from 3-litre, to 4½-litre, to 6½-litre – Birkin was impressed by the Roots-type supercharger developed by British engineer Amherst Villiers, which boosted the 4½'s power from 130 bhp to 240 bhp in race tune. He persuaded Bentley Chairman Woolf Barnato to sanction production of 55 supercharged 4½-litre Bentleys, with five allocated for competition. The car on Bentley's heritage fleet - UU 5872 - is the second of the four 'Team' cars developed at Birkin & Co's workshops at Welwyn Garden City with funding from wealthy heiress the Hon. Dorothy Paget.
UU 5872 made its debut at the 1930 Irish Grand Prix with Bernard Rubin at the wheel, while Birkin drove Team Car No.1, UU 5871. Both cars were fitted with 'British Flexible' four-door bodies by coachbuilders Harrisons. Rubin finished eighth and Birkin third. Rubin was also at the wheel of UU 5872 in August at the Ulster TT, where he rolled the car and was lucky to escape without injury. Following Rubin's crash, UU 5872 was rebuilt with a new, 9'9" chassis and Vanden Plas bodywork in time for the Brooklands Double Twelve race in May 1930. Tim Birkin and Jean Chassagne shared the driving until a cracked chassis frame forced their retirement.
For the 1930 24 Hours of Le Mans, Mercedes entered the formidable 7-litre supercharged SSK, driven by Rudolph Caracciola and Christian Werner. Facing them were Bentley Motors – the reigning champions - with a team of three Works Speed Sixes. Birkin's team entered three Blowers, headed by Birkin himself in Team Car No.2.
From the start the pace was frenetic. A famous painting of the race by Bryan de Grineau shows Birkin in UU 5872 passing Caracciola's Mercedes SSK down the Hunaudières straight with two wheels on the grass - and a bald rear tyre. To general amazement Birkin stayed in front for an entire lap before pulling in to the pits.
Legend has it that Bentley used a 'tortoise and hare' strategy to see off the opposition, with Birkin pushing Caracciola to the limit until the Mercedes expired. While this story may have only been developed post-race, Caracciola's Mercedes was indeed driven to failure, with water pouring from the engine. Meanwhile, Woolf Barnato and Glen Kidston took the chequered flag in their Speed Six.
UU 5872's final team car outing was the Brooklands 500 handicap race in October 1930, when Dr Dudley Benjafield and Eddie Hall drove it to second place on handicap at an average speed of 112.12 mph. By May 1931 UU 5872 and the other remaining Birkin works Blowers were advertised for sale in MotorSport, each one guaranteed to attain 125mph in racing trim.
Team Car No. 2 was sympathetically restored in the 1960s, preserving much of its original patina. Owned by Bentley Motors since 2000, it has had only minor cosmetic maintenance, and is much as Birkin would have driven it. Since then it has competed in the modern Mille Miglia five times, has driven to Le Mans on several occasions and has also appeared at the Goodwood Festival of Speed as well as the Pebble Beach Concours d'Elegance.
Mulliner – Bentley's Bespoking and Coachbuilding Division
The Mulliner name has been intertwined with coachbuilding since 1760, when Francis Mulliner was commissioned to build carriages for the Royal Mail. In 1870, his grandson Robert formed Mulliner London Limited, and business blossomed with the advance of mechanically powered coaches. By the early 1900s they had opened a showroom in London's prestigious Mayfair.
The 1923 Olympia Show in London saw the first collaboration between Robert's son H.J. Mulliner and Bentley – a bespoke 3½-litre. Mulliner went on to create many more Bentley bodies in the decades that followed, and the link between the two companies was formalised in 1959, with Mulliner becoming an official part of Bentley.
Today, the Mulliner workshop is based at the Bentley factory in Crewe, where designers and engineers unrivalled in their mastery create personal commissions for Bentley customers. Their most recent triumph is the complete recreation of the 1939 Bentley Corniche – a Bentley concept car of the era, once thought lost to history, but now reborn thanks to the extensive and diverse range of skills present in Mulliner's team of Master Craftsmen and Craftswomen.
- ENDS -
Notes to editors
Bentley Motors is the most sought after luxury car brand in the world. The company's headquarters in Crewe is home to all of its operations including design, R&D, engineering and production of the company's four model lines, Continental, Flying Spur, Bentayga and Mulsanne. The combination of fine craftsmanship, using skills that have been handed down through generations, alongside engineering expertise and cutting-edge technology is unique to UK luxury car brands such as Bentley. It is also an example of high-value British manufacturing at its best. Bentley employs around 4,000 people at Crewe.