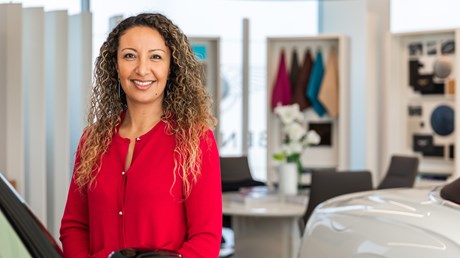 BENTLEY ANNUNCIA LA NOMINA DEL NUOVO RESPONSABILE MARKETING E COMUNICAZIONE PER L'EUROPA
Amel Boubaaya nominata quale nuovo Head of Marketing and Communications Bentley Europa
Sostituisce Caren Jochner che è passata alla posizione di Head of Global Brand Experience ad aprile
(Crewe, 19 luglio 2021) Bentley Motors annuncia la nomina di Amel Boubaaya quale Head of Marketing and Communications for Europe, a partire da oggi. Amel sostituisce Caren Jochner che da aprile ricopre la carica di Head of Global Brand Experience di Bentley.

Amel riporterà congiuntamente a Balazs Rooz, Regional Director, Europe and Wayne Bruce, Director of Communications. Wayne ha così commentato questa nomina:

"Sono lieto di dare il benvenuto ad Amel in Bentley e di lavorare ancora una volta con lei a così stretto contatto. Amel porta una importante conoscenza delle comunicazioni e dei clienti nel settore del lusso e una vera passione per l'automobile, affinata in molti anni di esperienza lavorando in vari mercati in tutto il mondo. Non vedo l'ora di lavorare con lei per sviluppare e portare a termine le nostre attività in tutta la regione chiave dell'Europa e con i nostri sforzi volti a trasformare il nostro business globale per divenire il leader nella mobilità di lusso sostenibile".

Amel si unisce a Bentley dopo aver trascorso 15 anni nel settore della comunicazione automobilistica, più recentemente come responsabile delle pubbliche relazioni per l'Europa, il Medio Oriente e l'Africa per McLaren Automotive. I 10 anni di Amel in McLaren l'hanno vista riscoprire ruoli quali Head of Lifestyle and European Communications con la sua esperienza che si è formata agli inizi come, European Communications and PR Manager.

Amel così commenta:

"Sono entusiasta di unirmi al viaggio che Bentley ha appena intrapreso con la importante strategia Beyond100, in quella che possiamo definire la regione (Europa) più complessa ed esigente del mondo. Non vedo l'ora di raccogliere questa sfida e mi sento fortemente ispirata dal modo in cui Bentley considera e tratta il tema della sostenibilità sotto ogni aspetto, un argomento che mi sta a cuore sin dalle sue prime fasi iniziate da alcuni anni".

Prima di approdare al brand ad alte prestazioni Amel, ha lavorato nel dipartimento comunicazione di Infiniti Europe ed anche per Renault Sport Technologies.

Nel suo nuovo ruolo, Amel sarà responsabile di tutte le attività di marketing e comunicazione per Bentley in Europa. Con sede a Monaco di Baviera, la regione copre 35 paesi con 70 rivenditori e rappresenta circa il 20% delle vendite globali totali, la terza regione per volumi di vendita di Bentley.

Per poter contattare Amel :

Amel Boubaaya
Head of Marketing and Communications, Europa
amel.boubaaya@bentley.co.uk
+49 (0) 173 2689143

- FINE –

Note per gli Editori

Bentley Motors è il marchio di auto di lusso più ambito al mondo. Crewe è la sede operativa dei reparti di progettazione, R&S, ingegneria e produzione delle tre gamme di modelli dell'azienda: Continental, Flying Spur e Bentayga. L'unione fra la tradizionale maestria e l'abilità artigianale tramandate di generazione in generazione da un lato, e la perizia ingegneristica e le tecnologie più innovative dall'altro, è una caratteristica unica dei marchi di auto di lusso del Regno Unito, come Bentley. Ed è inoltre un chiaro esempio dell'elevato valore della produzione industriale britannica. Bentley ha un organico di circa 4.000 persone a Crewe.