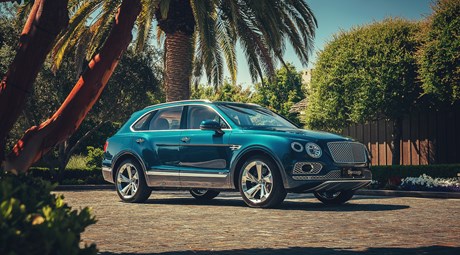 BENTLEY'S FIRST STEP TOWARDS ELECTRIFICATION: THE BENTAYGA HYBRID
Pioneering model is SUV sector's first true luxury plug-in hybrid
Latest British-built model is Bentley's first step towards electrification
Bentayga Hybrid now on sale across Europe
Most efficient Bentley ever, with combined CO2 emissions of 127 g/mile (79 g/km) (WLTP)
WLTP Equivalent All Electric range of 24.23 miles (39 km) (NEDC – 31.68 miles (51 km))
Technologically advanced Bentayga bringing serenity to the city and beyond through future-focused technology
Intelligent Satellite Navigation features aid efficiency
Maximum speed of 158 mph (254 km/h) and 0 to 60 mph in 5.2 seconds (0 to 100 km/h in 5.5 seconds).
(Crewe, September 26, 2019) Bentley announces that the pioneering Bentayga Hybrid – the luxury SUV sector's first true plug-in hybrid – is now on sale in Europe. Handcrafted in Crewe, England, the latest version of Bentley's exquisitely appointed SUV will be the company's most efficient model ever, with CO2 emissions of just 127 g/mile (79 g/km) (WLTP – weighted, combined).
The Bentayga Hybrid is the ultimate grand tourer, offering a serene and luxurious driving experience through future-focused technology. Order books are now open across Europe, as well as in North America.
Entering the market as the world's first true electrified luxury car, the Bentayga Hybrid is also the first step on Bentley's journey into the new world of electric vehicles, which will see the marque roll out an electrified version of every nameplate by 2023.
In the British brand's centenary year, Bentley's first plug-in hybrid model will create an all-new experience in the luxury SUV sector. It combines a new, highly efficient 3.0-liter turbocharged V6 petrol engine – which incorporates the latest technologies to optimize both efficiency and performance – with a state-of-the-art electric motor delivering an instantaneous response.
Among the cutting-edge driver systems are several Intelligent Satellite Navigation features specific to the Bentayga Hybrid. Upon entering a journey into the system, the optimum combination of electric motor and engine will automatically be calculated and used for most effective use of hybrid power. According to the current position of the car, the system will also clearly illustrate on-screen the maximum remaining range in EV mode.
Before taxes, the new model is priced at £133,100 in the UK, €141,100 across Europe, and $160,000 in the United States. Customer deliveries in the UK and Europe are set to begin in the final quarter of 2019, with deliveries in the United States following soon after, in the first quarter of 2020.
Bentayga Hybrid – Serenity Through Technology
The Bentayga Hybrid utilizes an advanced and efficient E Motor, which acts as both an electric motor and a power generator. The Permanent Magnet Synchronous system offers 126 bph (94 kW) peak power and 295 lb-ft (400 Nm) of torque, allowing swift and silent acceleration from stationary. The system provides instant torque response by eliminating engine turbo lag, while a state-of-the-art, high voltage battery is capable of recharging in just 2.5 hours.
The E Motor in the Bentayga Hybrid is combined with a new 3.0-liter, turbocharged V6 petrol engine. The result is a seamless driving experience that offers 516 lb-ft (700 Nm) of combined torque, a top speed of 158 mph (254 km/h) and 0 to 60 mph in 5.2 seconds (0 to 100 km/h in 5.5 seconds).
Bentley's latest Bentayga model has three hybrid drive modes. In EV Drive mode, the all-new Hybrid is driven only with energy supplied from the battery to the wheels via the electric motor. In Hybrid Mode the car uses information from the navigation system to intelligently optimize power usage from the battery and the petrol engine, giving maximum efficiency and range. In Hold mode the use of engine and electric power is balanced to maintain electric range for later use – for example on arriving in a city. In all modes energy is recovered to the battery through regeneration during deceleration.
With a total driving range of 464 miles (747 km) and a WLTP Equivalent All Electric range of 24.23 miles (39 km) (NEDC Electric Range of 31.68 miles (51 km)) on a single charge, the Hybrid represents a new dimension to the existing range of refined and luxurious Bentayga models. Effortless performance and the same sure-footed, all-wheel drive ability ensure a unique driving experience in the finest automotive cabin in the world.
Returning CO2 emissions of just 127 g/mile (79 g/km) (WLTP – weighted, combined), and 67.20 mpg (3.5 l/100 km) on the WLTP weighted, combined cycle, the Bentayga Hybrid is Bentley's most efficient model to date, combining the serenity of silent motoring with supreme levels of comfort and performance. The ultimate grand touring experience, it is the world's first true luxury, hybrid plug-in that feels and rides like a true Bentley.
Each handcrafted Bentayga Hybrid requires 130 hours to build in Crewe, England. Sculpted with an elegant, timeless execution, Hybrid's style perfectly balances athleticism with confidence. The world's most luxurious SUV also has the world's finest automotive cabin, the epitome of modern British design and available with a range of unique personalization options.
- ENDS –
Notes to editors
Bentley Motors is the most sought-after luxury car brand in the world. The company's headquarters in Crewe is home to all of its operations including design, R&D, engineering and production of the company's four model lines, Continental, Flying Spur, Bentayga and Mulsanne. The combination of fine craftsmanship, using skills that have been handed down through generations, alongside engineering expertise and cutting-edge technology is unique to UK luxury car brands such as Bentley. It is also an example of high-value British manufacturing at its best. Bentley employs around 4,000 people at Crewe.