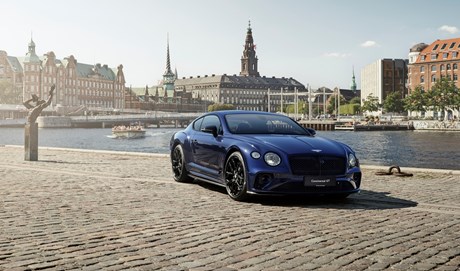 BENTLEY MOTORS CELEBRATES TWO DECADES IN DANISH CAPITAL
Bentley Copenhagen 20-year anniversary
Key milestone coincides with the 20th anniversary of Bentley Continental GT – the definitive grand tourer
Celebration comes at important moment in Bentley history as brand moves towards an electrified future
Bentley Copenhagen is operated by Semler Gruppen
(Copenhagen, 15 September 2023) Bentley Motors is to celebrate 20 years presence in Denmark with an exclusive representative Bentley Copenhagen. Bentley Copenhagen's milestone also coincides with the 20th anniversary of the Bentley Continental GT. Launched in 2003, the definitive grand tourer was the first all-new Bentley of the modern era creating a new market sector, being the first with all-wheel drive and the first to feature the innovative W12 engine.

Twenty years ago, the very first car sold by Bentley Copenhagen was a stunning Dark Sapphire Continental GT. Currently in its third generation, both the Continental GT and GT Convertible have helped propel Bentley to its current status as the most sought-after luxury car brand in the world.

Two Continental GT models will be on show at Bentley Copenhagen, a facility operated by Semler Gruppen and the marque's only retail partnership in Denmark. The first is a Continental GT Convertible S in Orange Flame. The second, a Continental GT Convertible Speed in Opalite, featuring the phenomenally powerful W12 TSI engine, from which ordering will cease mid-November 2023 in Europe as Bentley moves towards an electrified future with the Beyond100 strategy.

Balazs Rooz, Regional Director of Bentley Motors Europe, said:

"Celebrating the 20-years anniversary of Bentley Copenhagen is a testament to Bentley Motors' strong ongoing relationship with the retail network across the world. I would like to thank the full team at Bentley Copenhagen for their dedication to Bentley so far and I am convinced we have the right formula in place for a successful future."

Rasmus Albrechtsen, General Manager of Bentley Copenhagen, added:

"From the very beginning, Bentley has been the ultimate choice when it comes to quality, luxury, and driving pleasure. Bentley has ambitious plans for much more, and it will be an extraordinary journey that we look forward to, both in terms of launching new products and maintaining the high level of service that has made Bentley Copenhagen a recognized player in the Danish luxury market for 20 years."

- ENDS –

Notes to editors
Bentley Motors is the most sought-after luxury car brand in the world. The company's headquarters in Crewe is home to all of its operations including design, R&D, engineering and production of the company's five model lines, Continental GT, Continental GT Convertible, Flying Spur, Bentayga and Bentayga EWB. The combination of fine craftsmanship, using skills that have been handed down through generations, alongside engineering expertise and cutting-edge technology is unique to UK luxury car brands such as Bentley. It is also an example of high-value British manufacturing at its best. Bentley employs around 4,000 people at Crewe.