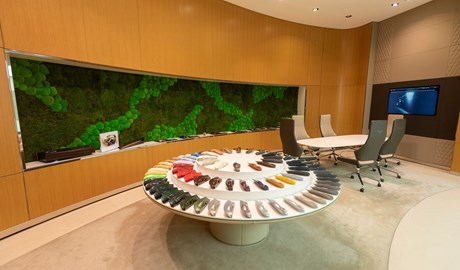 BENTLEY AMERICAS RETAILERS CONFIRM CARBON NEUTRAL STATUS
Global climate change consultancy – the Carbon Trust – confirms achievement for all active 59 independently franchised retailers
Supports brand's sustainability commitment, Crewe headquarters certified carbon neutral since 2018
(Reston, Va., 4 May 2023) Following Earth Day, Bentley Americas is proud to announce that it has successfully achieved a carbon neutrality certification for its retailers in accordance with PAS 2060, from the Carbon Trust -- a global climate consultancy driven by the mission to accelerate the move to a decarbonised future.

The accreditation supports Bentley's industry-leading sustainability program at its manufacturing headquarters in Crewe, England, where all Bentley models are built and follows the 2022 achievement of other global retailer networks.

Over the course of 12 months, the Americas retailer network of 59 active Bentley dealerships worked closely with the Carbon Trust to achieve the carbon neutral certification. This involved measuring the carbon footprint and committing to a carbon reduction plan, before offsetting remaining emissions. Initially, it has used high quality carbon offsets, such as tree planting, to achieve certification. However, individual dealerships are also now implementing the first steps of their carbon reduction plans which include a range of actions such as switching staff vehicles to BEV or PHEV, changing to green energy, and eliminating single use plastics.

This complements Bentley's corporate mission to reach carbon neutrality by 2030. Bentley's path to sustainability is a driving force behind the company's Beyond100 strategy. Announced in 2020, the plan targets sustainable mobility leadership, reinventing every aspect of the business.

"This achievement reflects dedication to a carbon neutral future and marks an important step in our journey to offer truly sustainable luxury," said Christophe Georges, President and CEO of Bentley Americas. "We are proud of the Bentley retail network attention to carbon neutrality and joining us on Bentley's journey towards electrification."

Bentley was the first UK automotive manufacturer to be awarded the triple Carbon Trust Standard for carbon, water and waste reduction at its Crewe headquarters since 2018. This includes significant investment in more than 30,000 solar panels, increasing to 40,000 within the next two years. Together with other initiatives, Bentley now plans to convert all logistics vehicles to renewable fuels only.

Carbon Trust has been pioneering decarbonisation for more than 20 years for businesses, governments, and organisations. A leader in carbon footprinting, the Carbon Trust certifies products, organisations, and value chains around the world.

- ENDS –

Notes to editors

Bentley Motors is the most sought-after luxury car brand in the world. The company's headquarters in Crewe is home to all of its operations including design, R&D, engineering, Mulliner and production of the company's five model lines, Continental GT, Continental GT Convertible, Flying Spur, Bentayga and Bentayga EWB. The combination of fine craftsmanship, using skills that have been handed down through generations, alongside engineering expertise and cutting-edge technology is unique to UK luxury car brands such as Bentley. It is also an example of high-value British manufacturing at its best. Bentley employs around 4,000 people at Crewe.