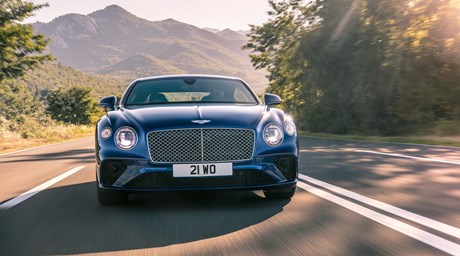 ENGINE
Bentley's W12 TSI engine is the most advanced 12-cylinder engine in the world. The unique W-configuration means that the engine is 24 per cent shorter than an equivalent V12, benefitting packaging and maximising usable cabin space.
Originally created for the Bentley Bentayga, the W12 engine has been integrated into the new Continental GT. It takes six and a half hours to hand-assemble every W12 engine, from 294 individual components. Every single W12 engine is built by hand at Bentley's home in Crewe – the Centre of Excellence for 12-cylinder engines in the Volkswagen Group.
635 PS (626 bhp / 467 kW) @ 6,000 rpm
900 Nm (664 lb. ft) from 1,350 rpm to 4,500 rpm. Maximum torque is available in less than a third of the time in the previous Continental GT.
The immense power and torque mean a 0-60 mph time of 3.6 seconds (0-100 km/h in 3.7 secs) and a top speed of 207 mph (333 km/h)
The Continental GT has 25 per cent more torque and 7.5 per cent more power than the previous Continental GT W12, delivering a sprint to 60 mph that's 0.7 seconds faster (0.8 seconds quicker to 100 km/h) and a top speed 9 mph (14 km/h) higher.
The W12 TSI combines high-pressure direct fuel injection (200 bar injection pressure) with low-pressure injection (MPI, 6 bar). The combination of these two systems maximises refinement, lowers particulate emissions and optimises power and torque delivery.
At 278 g/km CO2, the engine also meets Phase 2 of Euro 6 and US ULEV 125 (LEV3) emissions target, as the most fuel-efficient 12-cylinder Continental GT ever. The CO2 figure is 16 per cent lower than that of the previous Continental GT W12
Twin-scroll turbochargers mean minimum turbo response time and an efficient exhaust package. The exhaust assemblies for the three front and three rear cylinders are separate from one another, with the turbocharger housings welded directly to the exhaust manifolds. The turbochargers feature integrated speed sensors, allowing the engine to optimise turbo performance for maximum efficiency.
Bentley's Variable Displacement system shuts down half of the engine under defined conditions. Intake and exhaust valves, fuel injection and ignition are all shut down on defined cylinders, with the engine running as a six-cylinder for improved efficiency. The system will run in this mode in gears three to eight, below 3,000 rpm and up to 300 Nm torque output.
The powertrain mounting system benefits from an Active Engine Mount design unique to Bentley, delivering premium luxury class isolation in the cabin even under the hardest powertrain exercise, and making the six-cylinder running mode unnoticeable to the occupants.
The new W12 features utilises Start-Stop technology and, in Bentley's advanced application, coasting is also made possible. The engine rests not only when the vehicle is stationary but also at 'near to stop' speeds.
The engine management system is the latest-generation Bosch MG01 development, operating in a dual-ECU application. The hardware performs 300 million calculations per second, while Bentley's powertrain engineers have optimised almost 50,000 individual software settings across nearly 1,500 separate functions.
The engine includes three separate innovative and intelligent coolant circuits. This allows for optimum management of engine performance, low emissions and engine durability as well as maintaining the optimum cabin temperature control.
The cylinder surfaces are coated to reduce friction. A low-alloy steel coating is applied to the bores using an Atmospheric Plasma Spray (APS) process.
To optimise the weight distribution and packing of the W12 powertrain, the front driveshafts have to pass through the sump of the engine. This guarantees better weight distribution.
TRANSMISSION
The new Continental GT introduces a dual-clutch transmission to Bentley, with retuned controller software delivering both a sporty character and the appropriate refinement for a Bentley.
Shift times are variable and depend on the selected driving mode. In sport mode, shifts are instantaneous to deliver uninterrupted torque delivery and maximum acceleration performance. In comfort mode, shifts are deliberately slowed to allow for a seamless and imperceptible gear change that cannot be felt by the driver.
A dedicated launch mode delivers maximum acceleration through careful clutch pressure sensing and pre-loading.
Maximum speed is reached in seventh gear, with eighth gear acting as an overdrive gear for relaxed cruising.
A dual-mass flywheel connects the W12 engine to the transmission, improving refinement further by damping any torque fluctuations from the engine.