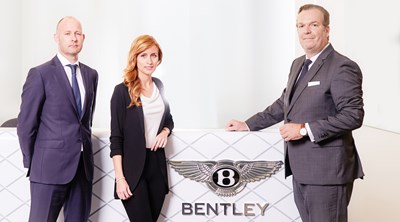 BENTLEY ANNOUNCES NEW EUROPEAN MANAGEMENT TEAM STRUCTURE
New Sales Operations Director for Bentley's biggest region
Head of Communications now also responsible for Marketing department
(Crewe / Munich, July 30, 2018) Bentley Motors today announces a new management team structure for its European operations.
Marco van Aalten (46) returns to the European head office in Munich as Sales Operations Director Europe on August 1, 2018. Van Aalten succeeds Philipp Noack who will take on an international role within Audi AG.
Van Aalten joined Bentley in 2004 as Area Manager for Central Europe, overseeing the sales and franchise development in 12 core markets. Since 2016, he headed the Luxury Division of Volkswagen Group Russia and steered Bentley's Russian and Eastern European markets. Before his time with Bentley, Van Aalten worked in a number of sales and marketing positions with other premium automotive brands.
In a further announcement, Caren Jochner (32), formerly solely Head of Communications, has assumed responsibility for the European marketing division with immediate effect. Since the beginning of the year, she has been leading a newly created Marketing and Communications department based in Bentley's European head office in Munich.
Jochner joined Bentley Motors in 2013 at the company's headquarters in Crewe, UK, and brings with her 10 years of international experience in operational and strategic marketing plus public relations roles for both retailer and manufacturers.
Commenting on the appointments, Chris Craft, Member of the Board for Sales, Marketing and Aftersales, said: "Europe is Bentley's largest sales Region and I am confident these new appointments will further strengthen our position. In an environment where bounderies are becoming increasingly blurred we are taking an innovative approach in combining Marketing & PR as we focus on consolidating our position as the leading luxury car brand".
Robert Engstler, Regional Director Europe at Bentley Motors added: "I am delighted to welcome Caren and Marco into their new roles and I am confident that with the new management structure in place we will be able to further strengthen Bentley's position in Europe. I would also like to thank Philipp Noack for the contribution he made to Bentley in the past years, playing a crucial role in the region's success."
Bentley's European region remained Bentley's number one market throughout 2017, closing the year delivering 2.823 new cars, against a figure of 2.649 in 2016. This accounted for 26% per cent of global deliveries to customers.
Bentley's European head office is based in Munich, and together with the Eastern European office in Moscow, they steer all sales, franchise development, marketing, communications and aftersales operations for the European region including Continental Europe, Russia, Turkey, CIS countries, Israel and North Africa.
- ENDS -
Notes to editors
Bentley Motors is the most sought after luxury car brand in the world. The company's headquarters in Crewe is home to all of its operations including design, R&D, engineering and production of the company's four model lines – Continental, Flying Spur, Bentayga and Mulsanne. The combination of fine craftsmanship, using skills that have been handed down through generations, alongside engineering expertise and cutting-edge technology is unique to UK luxury car brands such as Bentley. It is also an example of high-value British manufacturing at its best. Bentley employs around 4,000 people at Crewe.
Read more