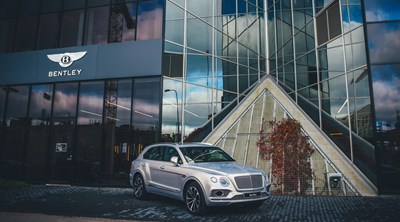 BENTLEY OPENS SHOWROOM IN TALLINN
Exquisite location for Bentley's latest showroom at the port of Tallinn
Presentation of the third generation of the peerless Continental GT: the definitive luxury Grand Tourer
Presence in the Estonian market will further strengthen Bentley's extraordinary performance in the region
(Crewe/Tallinn, 12 October, 2018) Bentley announces the official opening of a new showroom in Tallinn – the luxury British brand's exclusive retailer In Estonia.
The brand new showroom, which opens today, offers the full Bentley model range, aftersales services and the luxurious Bentley Collection handcrafted accessories.
Bentley Tallinn is located in 2 Laeva Street, an exquisite area next to the port and is a co-development with Luxury and Sports Cars SE, this the second Bentley retailer for the company.
The highlight of the exclusive opening event is the presentation of the new Bentley Continental GT. Designed, engineered and handcrafted in Britain, the new third-generation Continental GT combines spirited, focused performance with handcrafted luxury and cutting-edge technology, to create the finest Grand Tourer.
Robert Engstler, Regional Director, Europe for Bentley Motors, said: "Bentley Tallinn is represented by Luxury Sports Cars SE, which has been our partner since 2007. We value their continued commitment to the Bentley brand and we are confident that with the opening of the new showroom, this will continue our success in the region."
Valdis Spredzis, Chairman of the Board for Luxury Sports Cars SE, said: "We are extremely happy that our 11-year cooperation with Bentley Motors as Bentley Riga has lead to another retailer in the Baltics. Establishing a retailer in Tallinn will streghten Bentley's presence and enhance customer satisfaction. This is also a milestone in our company's development plans in the Nordic markets, where we see yet unexploited market potential."
Bentley Tallinn offers customers the full model range, consisting of Flying Spur, Mulsanne, Bentayga and the all-new Continental GT.
– ENDS –
Notes to editors
Bentley Motors is the most sought after luxury car brand in the world. The company's headquarters in Crewe is home to all of its operations including design, R&D, engineering and production of the company's four model lines, Bentayga, Continental, Flying Spur and Mulsanne. The combination of fine craftsmanship, using skills that have been handed down through generations, alongside engineering expertise and cutting-edge technology is unique to UK luxury car brands such as Bentley. It is also an example of high-value British manufacturing at its best. Bentley employs around 4,000 people at Crewe.
Read more
LANGUAGES

Press Contacts
Caren Jochner
Head of Marketing & Communications Europe
caren.jochner@bentley.co.uk