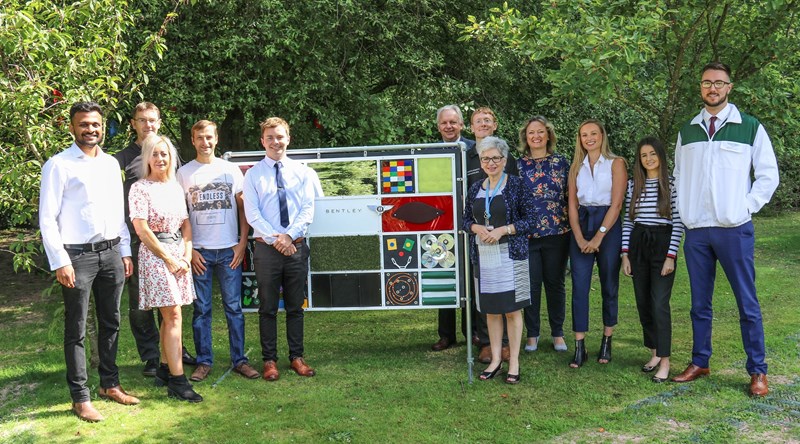 BENTLEY TRAINEES CREATE SENSORY GARDEN FOR CHILDREN'S TRUST
Sensory garden designed and delivered by Bentley apprentices, undergraduates and graduates
To be used by visitors to the Wingate Special Children's Trust in Wrenbury, Cheshire
A 'green' team of trainees from Bentley Motors has designed and created a brand new sensory garden for the Wingate Special Children's Trust, near the company's hometown of Crewe.
The Trust welcomes over 600 children every year, which alongside their carers, deliver life-changing care. The sensory garden - created by Bentley apprentices, undergraduates and graduates – gives these children the opportunity to enjoy a wide variety of sensory experiences including an interactive sensory wall, a willow structure and pathway and an enchanted forest area.
The garden is designed to appeal to all five senses, providing a range of health benefits, including reduced stress, improved physicality, mood and cognition. It provides an accessible space for children at the Centre to relax and enjoy the outdoors.
Sally Hepton, Bentley's Director of Government Relations and CSR, said: "The Wingate Special Children's Trust provides truly amazing care for children with disabilities in the local community, and we are proud to support them. At Bentley we encourage our trainees to take an active part in the local community and are fortunate to have trainees who are always enthusiastic and hardworking when it comes to local engagement."
Beth Stewart, a Purchase Graduate from Bentley, commented: "Working with the Wingate Centre on this project was extremely rewarding for the team. It's great to know that our efforts will bring real benefits to the children who will enjoy the garden."
CSR and community engagement activities form part of the trainee programmes at Bentley, which see apprentices, undergraduates and graduates involved in a wide variety of projects in the local community. Recent activities include the Greenpower Formula Goblin competition in collaboration with 9-11 year olds from local primary school Leighton Academy, and ongoing support of the Prince's Trust Team programme in Crewe.
Bentley actively supports a range of local charities through its charity committee and is a founding member of the Cheshire Community Foundation.
For more information about the Wingate Centre, including how to make a donation, please visit www.thewingatecentre.co.uk.
Notes to Editors
Bentley Motors is the most sought after luxury car brand in the world. The company's headquarters in Crewe is home to all of its operations including design, R&D, engineering and production of the company's four model lines, Bentayga, Continental, Flying Spur and Mulsanne. The combination of fine craftsmanship, using skills that have been handed down through generations, alongside engineering expertise and cutting-edge technology is unique to UK luxury car brands such as Bentley. It is also an example of high-value British manufacturing at its best. Bentley employs around 4,000 people at Crewe.
Read more
LANGUAGES

Press Contacts
Matthew Reed
Head of Corporate Communications
matthew.reed@bentley.co.uk
+44 (0) 1270 536433