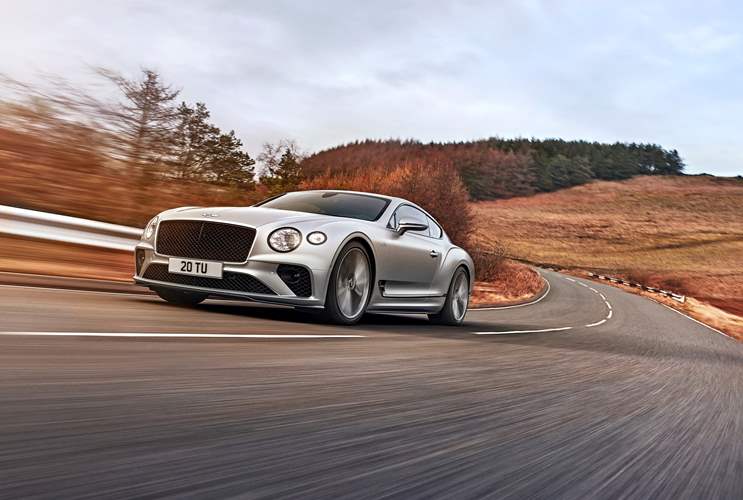 THE MOST DYNAMIC BENTLEY ROAD CAR IN HISTORY: THE NEW CONTINENTAL GT SPEED
The Continental GT Speed is the most dynamic road car in Bentley's 101 year history and ultimate performance-focused interpretation of the world's benchmark luxury Grand Tourer. Designed, engineered, developed and handcrafted in Bentley's carbon neutral luxury automotive factory, this new third-generation model builds on a long tradition of Speed variants. Originally introduced with the highly-acclaimed, first generation Continental GT Speed in 2007 – itself inspired by the 3-Litre Speed models of the 1920s. The latest GT Speed continues the bloodline by representing the ultimate combination of luxury and performance in a Grand Touring package.
New Electronic All-Wheel Steering enhances the dynamic nature of the Speed in BENTLEY and COMFORT driving modes. However, this is even more apparent in SPORT mode, as the steering combines with Bentley Dynamic Ride and an electronic limited slip differential for a level of agility unlike any other Bentley road car. Featuring Active All-Wheel drive, the traction control and torque distribution has been recalibrated in all driver modes to provide a noticeable character shift relative to the standard Continental GT.
The new GT Speed is the ultimate performance-focused expression of Bentley's definitive Grand Tourer, yet maintains the luxury, comfort and usability of its siblings. It is equipped with an uprated version of Bentley's renowned 6.0-litre W12 TSI engine, delivering 659 PS (650 bhp) whilst maintaining an extraordinary 900 Nm (664 lb.ft) of torque. With exceptional handling, this results in a top speed of 208 mph (335 km/h) and 0-60 mph in 3.5 seconds (0-100 km/h in 3.6 seconds).
Both engine and transmission have been deliberately calibrated to suit the car's driver-focused credentials. This is most noticeable in SPORT mode, where the twin-turbocharged W12 has been tuned to keep the engine in the power band longer by up-shifting later, or downshifting earlier. This creates a more eager response to the driver's throttle inputs.
The dual-clutch, eight-speed transmission shift is twice as fast in SPORT mode as in the standard W12 model, in keeping with the Speed's ethos. This combines with a greater exhaust character during start-up and downshifts.
The Continental GT Speed's credentials are further highlighted by a unique duotone colour split handcrafted in hide and matching Alcantara, which is also applied to the steering wheel. The exterior badging is matched with an elegant Speed icon on the passenger fascia.