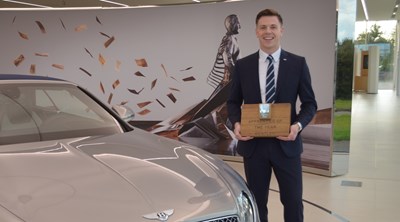 BENTLEY HONOURS LEWIS CLARKE WITH W.O. BENTLEY APPRENTICE OF THE YEAR AWARD
Lewis Clarke, Body and Trim Engineer, has been awarded Bentley's Apprentice of the Year title for 2019
W.O. Bentley Apprentice of the Year Award is an annual celebration of those who have recently completed their apprenticeship programme
Lewis has been selected from 72 apprentices studying across 8 different apprenticeship pathways
(Crewe, 08 October 2019) Bentley Motors has announced Lewis Clarke as its W.O. Bentley Apprentice of the Year for 2019. Lewis, a Body and Trim Engineer, was selected from 72 apprentices studying across 8 different apprenticeship pathways.
Lewis joined Bentley in 2014 on the Junior Engineer Apprenticeship Programme. Alongside the apprenticeship study, Lewis is a STEM Ambassador, a student Mentor at Crewe UTC and has been part of the North West Young Apprentice Ambassador network.
Commenting on the accolade, Lewis said:
"It is great to receive this award and to be recognised for going over and above throughout my apprenticeship. The skills I have learnt and the opportunities I have been given have helped me develop and can be applied within my current role."
The W.O. Bentley Apprentice of the Year Award is Bentley's annual celebration of apprentices who have recently completed their programmes. Applicants have to demonstrate evidence of continuous improvement, innovation, charity work and school liaison activity.
The past three winners of the Apprentice of the Year have been from Paintshop, Whole Vehicle Engineering and Sales and Marketing, and this year the shortlist comprised of candidates from Woodshop, Quality, and Engineering. This demonstrates the strength and breadth of Bentley's Apprenticeship programmes, with a total of over 130 apprentices now studying across more than 10 different pathways.
History of apprenticeships
Reinforcing Bentley's long association with apprentices, the company's founder, W.O. Bentley himself left school in 1905 at the age of 16 to start work as an Apprentice Engineer with the Great Northern Railway. In 1919, he founded Bentley Motors in Cricklewood, north of London starting a legacy of inspiring great people to design and build cars for its discerning customers.
Noel Thompson, our longest serving employee who celebrated its 50th working anniversary this month started as an apprentice in 1969 at 16 years old. Noel was one of 60 fellow apprentices to arrive on the shop-floor of the factory that year, where he spent 12 months receiving rotation training across various divisions, predominantly within engineering, before specialising in coach-trimming.
This level of commitment and recognition to apprenticeships continues with the company this year named as the UK's Top Employer in the Automotive Industry by the School Leavers awards for the second consecutive year.
- ENDS -
Notes to editors
Bentley Motors is the most sought after luxury car brand in the world. The company's headquarters in Crewe is home to all of its operations including design, R&D, engineering and production of the company's four model lines, Bentayga, Continental, Flying Spur and Mulsanne. The combination of fine craftsmanship, using skills that have been handed down through generations, alongside engineering expertise and cutting-edge technology is unique to UK luxury car brands such as Bentley. It is also an example of high-value British manufacturing at its best. Bentley employs around 4,000 people at Crewe.
Read more
LANGUAGES

Press Contacts
Gemma French
Communications Officer
gemma.french@bentley.co.uk
+44 (0) 1270 656967
Wayne Bruce
Director of Communications
wayne.bruce@bentley.co.uk
+44 (0) 1270 535189