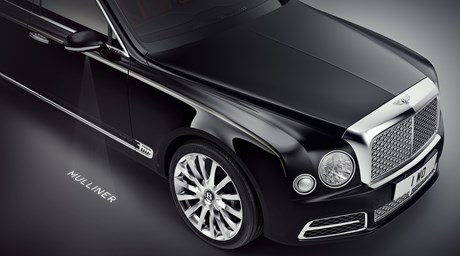 MULSANNE EXTENDED WHEELBASE LIMITED EDITION - EXCLUSIVE TO CHINA, CRAFTED BY MULLINER
Limited Edition Mulsanne Extended Wheelbase showcases iconic Mulliner craftsmanship for Chinese market
Fifteen cars finished in either Black Velvet or Onyx exterior paint, accentuated by exquisite gold fine line detail
London skyline recreated in embroidery and veneer
Mulliner's world-leading craftsmanship adorns three interior choices
Chrome 'Serenity' grille enhances the face of Bentley's flagship
Designed, engineered and handcrafted in Crewe, England
Powered by the iconic 6 ¾ litre engine which is celebrating its 60th year in production
(Crewe, 18th December 2019) Bentley's in-house bespoking division, Mulliner, has created a limited edition series of the flagship Bentley Mulsanne Extended Wheelbase, exclusively for China. Created by devoted craftsmen and women and honouring the beauty of bespoke, this limited edition Mulsanne builds on the foremost luxury limousine in the world with unique details that reference its British country of origin.
The limited edition Mulsanne is available in two sumptuous single tone finishes. Onyx uses a hint of dark blue, mixed with darker tones to create the deepest black finish offered by Bentley. The alternative Black Velvet is a richer black-based finish that contains red pigments for a colour inspired by black cherries. Each hand-crafted body, created in Bentley's dedicated Mulsanne Body Shop in Crewe, has the desired paint finish hand-applied before final embellishment with a hand-painted gold fine line that accentuates the characteristic power line and distinctive rear haunch.
21" 'Radiance' 14-spoke wheels in a polished finish complement the exterior. At the front, the Mulliner 'Serenity' grille is offered as a striking alternative to the straight vane grille, with a design incorporating an intricate double diamond quilt pattern that has become a signature for Mulliner limited editions.
Inside the car, Bentley's statement of luxury is epitomised through the finest handcrafted veneers, metals, and leathers - all enriched with bespoke Mulliner artistry. An expressive interpretation of a modern day London skyline is embroidered into all four sumptuous seats, and replicated with fine detail in the front passenger veneer fascia. Customers can choose from three different, unique interior colour combinations - Newmarket Tan with Burnt Oak, Fireglow with Imperial Blue, or Shortbread with Redwood - each combination defining the exclusivity of the fifteen restricted Mulsannes being produced.
Finishing touches to the model include polished stainless steel Mulliner tread plates and bespoke welcome lamps. The limited edition Mulsanne Extended Wheelbase is available to Bentley's customers in China from now, with pricing available on applications.
- ENDS –
Notes to editors
Bentley Motors is the most sought after luxury car brand in the world. The company's headquarters in Crewe is home to all of its operations including design, R&D, engineering and production of the company's four model lines, Continental, Flying Spur, Bentayga and Mulsanne. The combination of fine craftsmanship, using skills that have been handed down through generations, alongside engineering expertise and cutting-edge technology is unique to UK luxury car brands such as Bentley. It is also an example of high-value British manufacturing at its best. Bentley employs around 4,000 people at Crewe.