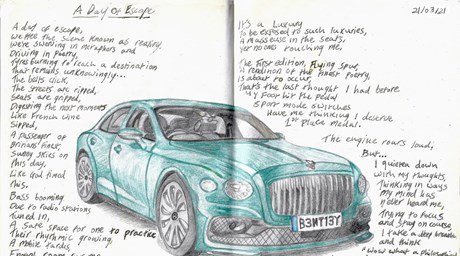 BENTLEY COMMISSIONS INTERNATIONAL POETS TO PRODUCE NEW WORK FOR WORLD POETRY DAY 2021
Bentley Motors celebrates World Poetry Day, collaborating with young talent including: LionHeart, Charly Cox, Shaquille-Aaron Keith, Irina Dubtsova and Leticia Sala
Each writer has created a poem inspired by their experience of Bentley and the brand's values of sustainability, craftsmanship, innovation and performance
Quotes from the poems include: 'Extraordinary journeys begin at the end of a decision, So - what's yours?' by London poet LionHeart and 'This one road among a million others' by Barcelona-based Leticia Sala.
Each poem will be revealed via Instagram on World Poetry Day - 21 March 2021
Follow the story via Bentley Newsroom: www.instagram.com/bentleynewsroom/ #BentleyPoetrySociety
(Crewe, 18 March 2021) Bentley is proud to be celebrating World Poetry Day, working with a select group of rising poetry talent to produce unique works inspired by Bentley and its values. Charly Cox's poem for example, entitled 'We Could Be Anywhere' muses 'We're on a grand tour of nowhere, that could be anywhere', while Shaquille-Aaron Keith rhymes, 'The First Edition, Flying Spur, a rendition of the finest poetry is about to occur'.
In commissioning contemporary poets and launching the poems via social media, Bentley hopes to provide a fresh cultural perspective, challenging preconceptions of poetry as traditional. Bentley recognises poetry as a unique art form which resonates as strongly today as it did in ancient civilisations and throughout cultural histories across the globe. First adopted in 1999 by UNESCO, World Poetry Day was conceived as a moment to reflect on the power of language and to celebrate creativity. In 2021, Bentley pledges its support for the creative medium which is seeing a revival through new and current channels such as social media, and through the resurgence of podcasts.
Each of the poets commissioned by Bentley, documented their work in a variety of mediums from hand-written notes, to voice recordings on their phones, digital typeface, photography and video.
Five unique poetry talents
Rhael Cape, otherwise known as 'LionHeart' is an award-winning British poet and spoken word artist who has inspired readers with his candid coverage of mental health, emotional vulnerability and masculinity. Highly creative by nature, LionHeart is a self-professed architecture afficinoado and was awarded an honorary fellowship from the Royal Institute of British Architects in 2020. He presents a regular show on BBC Radio London and music is a huge part of his art and performance. LionHeart's poem is titled 'The (Subliminal) Meaning of Craftsmanship' and demonstrates his appreciation of Bentley design and how this translates allegorically through the idea of extraordinary journeys.
Charly Cox is a British writer known for her best-selling book 'She Must Be Mad', a coming-of-age poetry anthology she wrote in her teens and early 20s, and 'Validate Me', her latest book documenting her own experiences with social media addiction and mental health. Charly was included in the Forbes 30 under 30 list in 2020 and is an ambassador for MQ Mental Health Research. She is a vibrant activist for destigmatising mental health issues. Charly's poem captures her experience of driving the Continental GT Convertible for the first time. She describes the feeling of freedom, 'We're on a grand tour of nowhere that could be anywhere' that encapsulates extraordinary journeys.
Shaquille-Aaron Keith is a well-known British-Trinidadian poet, illustrator, artist and YouTube star. Drawing inspiration from artists and musicians across history, Shaquille covers topics across popular culture, mental health and race issues. His love of unique fashion has seen him star as the face of many global high-luxury fashion brands and he has become an icon of style to his avid audience. Shaquille's poem portrays the Bentley Flying Spur as a means of escape, a safe space to practice 'rhythmic grooving' and to 'quieten down with my thoughts'.
Irina Dubtsova is a 25-times award-winning Russian singer, poet and composer. Throughout her career, she has written lyrics for over 100 songs by various artists and has a passion for language and its power within music and the peforming arts. The musician is known for her high energy and creativity, and her music, as both a singer and a songwriter, is loved and recognised all around the world. Irina's poem is romantic and lyrical, and speaks of her falling in love with the Bentley Flying Spur. She describes the model as "a gorgeous car that inspires me to create, I wrote my best song in this car. It's just perfect for life!".
Leticia Sala is a Spanish artist and writer living in Barcelona. Her first book 'Scrolling After Sex' features a compilation of stories, poems, drawings and photographs, and was published in 2018. Leticia is a regular contributor to magazines such as Vogue Spain, Vogue Italy and Vogue International, publishing poems and thought pieces. She also writes scripts and voice-overs, and has written song lyrics for internationally renowned Spanish artists, such as the singer Rosalía. Leticia's poem is a description of a journey by Bentley Continental GT Convertible but metaphorically represents the emotional journey of a couple.
Each of the poets were given the keys to a Bentley model to experience the car and its extraordinary craftsmanship and performance. The writers each put together a work of poetry inspired by this experience, which they will share on their social channels on 21 March 2021 to brighten World Poetry Day for their audiences.
- ENDS -