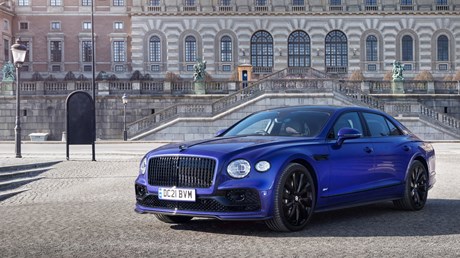 BENTLEY STOCKHOLM INAUGURATES ITS BRAND NEW SHOWROOM IN THE SWEDISH CAPITAL
Bentley Stockholm expands its facilities and opens its state-of-the-art showroom doors
National premiere of the Flying Spur Hybrid, alongside the electrified Bentayga and other models from the Bentley collection
Bentley accelerates its Beyond100 strategy with the seamless fusion of materials and curated intelligent technology reflected through models like the Bacalar Car Zero, present for the occasion
Bentley Stockholm will serve owners, prospects and friends of the brand across the whole Swedish market
(Munich, 18 March 2022) Bentley Stockholm, the latest brand new Bentley retail facility, officially opened its new premises in the capital of Sweden. The launch event featured some of the most-exclusive Bentley models to date.

Located just off the E20 and the E4, the new showroom offers an easy access to the larger showroom facilities with 900 sqm of space, accommodating a new and pre-owned vehicles area with the latest Bentley Corporate Identity. A commissioning area is on hand to help visitors build their own unique Bentley vehicle. For those who are inclined to take their customised Bentley even further, this area is also the place to explore the world of Mulliner, Bentley Motors customisation department, where the most unique and creative ideas are brought to life.

For this occasion, guests welcomed a special star amongst them, with the national debut of the Flying Spur Hybrid in Azure Purple and its Damson interior. This new model line-up proves that hybridisation does not compromise luxury performance. The Flying Spur Hybrid uses a highly innovative third powertrain to deliver an unperceivable blend between the internal combustion engine and electric motor to offer refined serenity regardless of the driving mode or style. The exterior subtle visual differences include a 'Hybrid' front fender badge, quad oval tailpipes and a covered universal charging point on the left hand rear fender.

Joined by the first true luxury plug-in hybrid SUV, the Bentayga Hybrid in Viridian featuring Mulliner's Black Specification, which includes a 22" Ten Spoke Directional Wheel – painted in black, Black specification, and sports pedals amongst other options. To round it up, the personalised GT Mulliner in Sequin Blue with a Linen interior and a striking Grand Black Veneer fascia handcrafted by Mulliner made an appearance.

With the Beyond100 strategy, Bentley is focusing on redefining the benchmark as a leader in sustainable luxury mobility. The Bacalar Car Zero in Scarab green paint with a retrimmed cabin displays the sustainable craftsmanship. The materials include paint containing ash from rice husks, which provides a sustainable way of delivering a rich metallic finish, natural British wool and 5,000-year-old Riverwood sourced from the ancient Fenlands of East Anglia.

Only 12 units were produced and each one of them is a unique masterpiece. Bentley is accelerating its Beyond100 strategy and committed with a sustainable investment of £2.5 billion to transform the entire production portfolio and Crewe into a world – leading 'Dream Factory'. Innovative steps to run the first full EV model down the assembly line by 2025, whist becoming carbon neutral, and having a zero impact production by 2030.

On the inauguration, Balazs Rooz, Regional Director Bentley Motors Europe, commented:

"I am delighted to inaugurate this new home for Bentley in Sweden, this is one example of the steady growth, success and ambitious plans as part of our Beyond100 strategy. Being active on the forefront of sustainability, the Swedish market is in line with our forward thinking strategy. We have today the strongest electrified range offering with the Bentayga Hybrid and the upcoming new Flying Spur Hybrid.

"Bentley Stockholm will definitely be benefitting from the Beyond100 strategy," adds Valdis Spredzis, Dealer Principal Bentley Stockholm, Riga and Tallinn. "We are proud to be representing Bentley in a market where the current electrified range is a strong offering for our customers. This is now our turn and mission to ensure the customers get the best experience possible."

The new showroom is located at:

Bentley Stockholm
Sveavägen 167
11346 Stockholm
Phone: +46(0)8-562 485 14

For more information on the models on offer in the Bentley range, please visit the Bentley Media site: https://www.bentleymedia.com/

- ENDS –

Notes to editors

Bentley Motors is the most sought-after luxury car brand in the world. The company's headquarters in Crewe is home to all of its operations including design, R&D, engineering, Mulliner and production of the company's three model lines, Continental, Flying Spur, and Bentayga. The combination of fine craftsmanship, using skills that have been handed down through generations, alongside engineering expertise and cutting-edge technology is unique to UK luxury car brands such as Bentley. It is also an example of high-value British manufacturing at its best. Bentley employs around 4,000 people at Crewe.