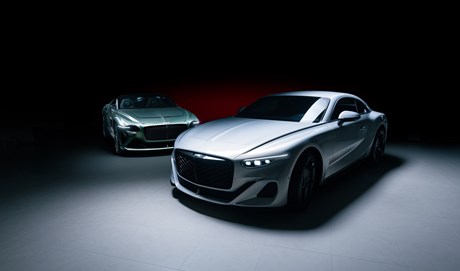 BENTLEY MAASTRICHT CELEBRATES FIFTH ANNIVERSARY WITH A SPECIAL PREMIERE – FULL LIGHTS ON MULLINER
Debut of breath-taking new Mulliner Batur in the Netherlands
Grand Tourer reveals new design direction for Bentley future models
Fifth anniversary event highlights pinnacle of Mulliner craftsmanship
(Munich, 29 September 2022) Bentley Maastricht will celebrate its fifth anniversary with a dazzling display of two rare models from the sought-after, British luxury marque. For the special two-day event on 29 and 30 September, Bentley Maastricht will feature the debut of the Mulliner Batur in the Dutch market, alongside an exquisitely handcrafted and equally stunning Mulliner Bacalar customer car, one of just 12 examples handbuilt at Bentley headquarters in Crewe, England.

Invitees will be able to view first-hand the Mulliner Batur's new design DNA, revealing the direction for future Bentley battery electric vehicles (BEVs). The company's ambitious Beyond100 strategy and Five-in-Five plan, will see one new electric model each year for five years, from 2025. Limited to just 18 examples, Batur therefore embodies the start of a design revolution for Bentley. As the most powerful Bentley in history, with a 1,000 Nm development of the company's iconic twin-turbocharged W12, the 6.0-litre engine will benefit from a new intake system and intercoolers, upgraded turbochargers and extensive recalibration to produce more than 740 PS. Revised chassis technology, including active torque vectoring via eLSD, four-wheel steering and 48V electric active anti-roll bars will match the Batur's breath-taking performance.

Batur is the latest model from Bentley's in-house, bespoke coachbuilder Mulliner - the oldest coachbuilder in the world. Customers can further personalise their car with an extensive array of exclusive options, including parts crafted in titanium, sustainable Natural Fibre composites and even 3D printed 18 carat gold.

Balazs Rooz, Regional Director Bentley Motors Europe, commented:

"This has been a special year for Bentley Motors in the Netherlands, commemorating and celebrating the dedication and commitment of our retail partners in the Dutch market. Bentley Maastricht is an integral part of the European retailer network and has been distinguished with the "Best of the Best 2021" award earlier this year. A reflection of the achievements and attentiveness to deliver the best-in-class customer experience to the Dutch market."

Luc Vanderfeesten, General Manager of Bentley Maastricht, added:

"We are looking back at five strong and successful years at Bentley Maastricht. The fifth anniversary celebration at Bentley Maastricht is a unique opportunity to see two of the rarest, modern-day Bentley models together under one roof. Both represent the essence of Bentley which will delight our owners, potential customers and friends of the brand."

- ENDS -

More information about the Bentley Mulliner Bacalar: https://www.bentleymedia.com/en/models/bacalar

More information about the Bentley Mulliner Batur: https://www.bentleymedia.com/en/newsitem/1365-mulliner-batur-starts-design-revolution-for-bentley

Notes to editors

Bentley Motors is the most sought-after luxury car brand in the world. The company's headquarters in Crewe is home to all of its operations including design, R&D, engineering and production of the company's five model lines, Continental GT, Continental GT Convertible, Flying Spur, Bentayga and Bentayga EWB . The combination of fine craftsmanship, using skills that have been handed down through generations, alongside engineering expertise and cutting-edge technology is unique to UK luxury car brands such as Bentley. It is also an example of high-value British manufacturing at its best. Bentley employs around 4,000 people at Crewe.