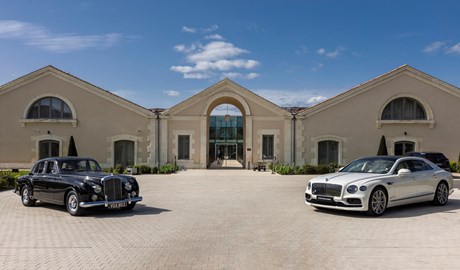 BENTLEY CELEBRATES PAST AND PRESENT AT EUROPE'S BIGGEST VINTAGE CAR MARKET
Bentley showcases best of old and new at Auto e Moto d'Epoca
Iconic S1 Continental Flying Spur takes centre stage at Italian event
Sensational 1958 grand tourer on show from Bentley's new Heritage Garage in Crewe
Classic S1 displayed alongside limited edition model of new Flying Spur Hybrid Odyssean Edition a statement of sustainable design
Weekend-long Auro e Moto d'Epoca in Padova a flagship event for motoring enthusiasts
(Munich, 21 November 2022) Bentley Motors is displaying two very special cars at this weekend's Auto e Moto d'Epoca in Italy. The legendary S1 Continental Flying Spur and 2021 Flying Spur Hybrid Odyssean Edition bookend the story of a four-door sedan at the very pinnacle of luxury grand touring for almost 70 years.

The classic S1 can trace its roots back to the two-door R-Type Continental of 1952. That ground-breaking model came from a collaboration between Bentley's chief designer, J.P. Blatchley, and engineer Ivan Evernden. Their unofficial project caused a sensation at launch, with sleek bodywork and the ability to cruise all day at 100mph.

Coachbuilder H.J. Mulliner later extended the same Continental formula to the more practical, 1958 S1 Continental Flying Spur model now on show in Padova. The S1 displayed is from the newly-opened Heritage Garage at Bentley headquarters in Crewe, England. The facility contains 34 iconic cars in full running order and is open to colleagues, customers and guests alike.

Alongside the S1 is a limited edition that unveiled the new Flying Spur Hybrid in 2021 and since available in all European markets. The Odyssean Edition features exclusive interior and exterior content and was the first mainstream production Bentley to incorporate design influences from the EXP 100 GT concept car.

A statement of sustainable design, the Odyssean Edition was built without compromise to renowned Bentley character and expertise. It features exquisite craftsmanship that pushes the boundaries of bespoke stitching by implementing graduated seat embroidery. Odyssean Edition was also the first step on Bentley's journey to introduce new sustainable materials, a part of its industry-leading Beyond100 strategy.

Balazs Rooz, Regional Director Bentley Motors Europe commented:

"We are delighted to showcase two special Bentleys at the Europe's biggest vintage car and spare parts event. Our 1958 S1 and Flying Spur Hybrid Odyssean models represent the best of luxury grand touring from very different eras. We hope the Italian customers and fans will enjoy having a closer look at both over the weekend."

Auto e Moto d'Epoca (autoemotodepoca.com) is the biggest vintage car and spare parts market in Europe and a highlight of the automotive calendar for motoring enthusiasts.

- ENDS -

More information about the Bentley Heritage Garage: https://www.bentleymedia.com/en/newsitem/1382-celebrating-history-bentley-opens-new-heritage-garage

More information about the Flying Spur Hybrid Odyssean:
https://www.bentleymedia.com/en/newsitem/1240

Notes to editors

Bentley Motors is the most sought-after luxury car brand in the world. The company's headquarters in Crewe is home to all of its operations including design, R&D, engineering and production of the company's five model lines, Continental GT, Continental GT Convertible, Flying Spur, Bentayga and Bentayga EWB . The combination of fine craftsmanship, using skills that have been handed down through generations, alongside engineering expertise and cutting-edge technology is unique to UK luxury car brands such as Bentley. It is also an example of high-value British manufacturing at its best. Bentley employs around 4,000 people at Crewe.